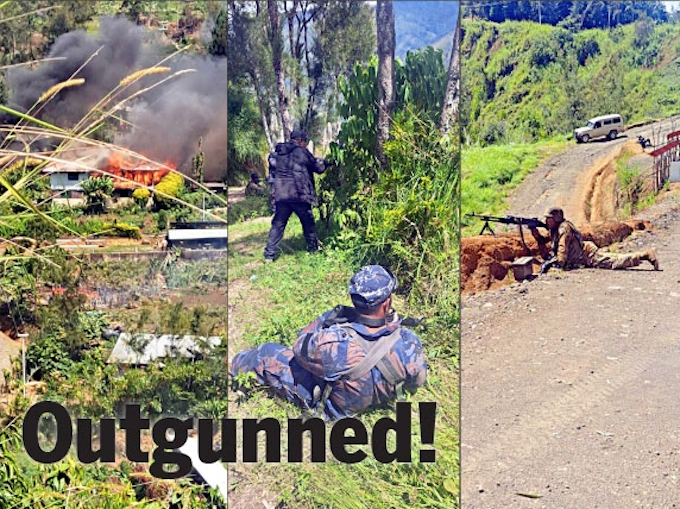 SPECIAL REPORT: By Miriam Zarriga at Wapenamanda, Papua New Guinea

Standing in the middle of the countryside, the sound of heavy gunfire is loud and the shouts of the people in rural Wapenamanda in Papua New Guinea's Enga province are fearful.
Police and the PNG Defence Force officers are crouched hidden on the hillside, safeties off their firearms, silently watching the melee below in Warumanda village.
The echo of the military grade Mac 58 and self-loading rifle (SLR) comes from the tribal fight; bullets aimed at the security officers miss but hit close to their feet.
A burst of machinegun fire is heard.
Provincial Police Commander Superintendent George Kakas stands stoic in the thick of things.
He said his men were outnumbered and outgunned.
"We estimate about 500 men involved in this tribal fight, bullets are coming at us but instead they whiz past us and we can only take fire as we decide our next move," he said.
The fighting is between Sikin and the Itiokons.
'Explosion' of fighting
However, the inclusion of other tribes into both tribes has seen an "explosion of all-out fighting", Commander Kakas said.
Joining Sikin tribe are the Kaekins, and other tribes from Tsak LLG, Wabag and Kompiam-Ambum and Mupapalu, while the Itiokons include the Nenein tribe.
"I advised Air Niugini to cancel its current flight because of the intense fighting which was taking place right under its flight path towards its descent into Wapenamanda Airport," Commander Kakas said.
"I will advise them when the situation is conducive later this week.
"We tried to cross over the only bridge over the Lai river to Warumanda village — where the destruction was taking place — and could not cross over because the metal decking has been were removed, preventing us from crossing.
"We exchanged shots with the tribesmen, luckily none of my security force members were harmed in the exchanged," he said.
"I have now reorganised my men to remain static at strategic sites to prevent the marauding tribesmen to advance further.
'I need men .. . support'
"I need men, I need firepower and I need the support," he says.
"Homes are burning and lives lost, 10 people have died with countless others left without a home and without any hope of having one in the coming days."
"Three bodies were brought out of the battleground, 8 others unaccounted for, and more than 10 taken to hospital by security forces."
On Tuesday afternoon, security personnel were shot at and a shootout ensued with the personnel seeking higher ground.
Enga Governor Sir Peter Ipatas said bluntly in Parliament last week that both sides of the House should stop with the projects and concentrate on fixing law and order.
"We cannot keep on saying that everything is okay.
"We need to think beyond our self-interest and start addressing the law and order issues in the country".
Miriam Zarriga is a PNG Post-Courier journalist. Republished with permission.