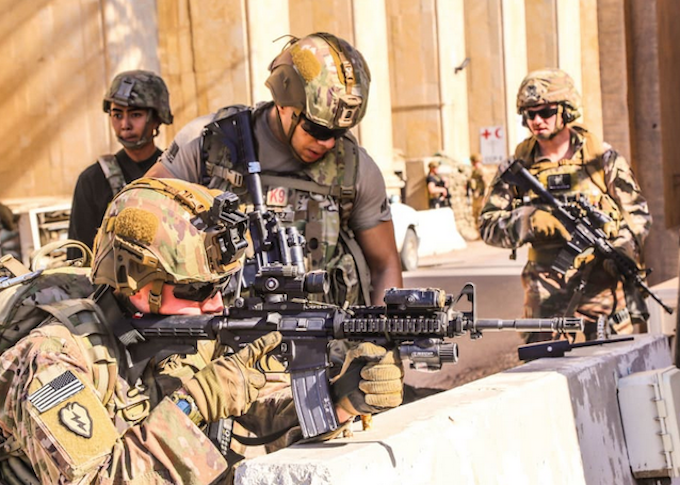 Papua New Guinea expects to see a steady increase in United States military presence following the signing of the US-PNG Defense Cooperation Agreement today.
But there is uncertainty over the future implications for the country and its people with the agreement giving the US access to strategic military and civilian locations within Papua New Guinea.
"You need not fear [it], this is not a new thing," Prime Minister James Marape said.
While the details of the agreement are yet to be made clear, there will be a steady increase in US military presence over the next decade — the biggest since World War II.
"How many soldiers we are looking at, how many contractors we are looking at, I do not have that scope today but there will certainly be an increased presence and a more direct presence of US in our country," Marape said.
He has had other proposals from nations wanting an agreement of sorts but they were turned away because they stipulated PNG must not engage with other nations.
The Prime Minister said the agreement with Washington was the only proposed agreement which allowed PNG to engage with who they want.
US soldiers, contractors
"Certainly, as we go forward over the next 15 years, we will see US soldiers in our country. We will see US contractors in our country," Marape said.
Papua New Guinea is a strategic military location for western powers. In the north of the country, Lombrum in Manus Province, was once a combined US naval and airbase with more than 30,000 personnel.
PACIFIC Islands Forum Sectratery Henry Puna was welcomed with a Cook Island welcome song "Trete"sung by Vabukori singing group at Jackson's International Airport. pic.twitter.com/dAfjUzQwMZ

— PostCourierlive (@postcourierlive) May 21, 2023
Outside of political circles, various groups have come together to voice strong concerns about the agreement.
The president of the Catholic Professionals Society, Paul Harricknen, fears the agreement may be unconstitutional.
"America needs to understand that we are a constitutional democracy. If there is to be geopolitical rivalry, they cannot use PNG for their disagreements," Harricknen said.
But Marape insists it is a constitutional agreement.
This article is republished under a community partnership agreement with RNZ.