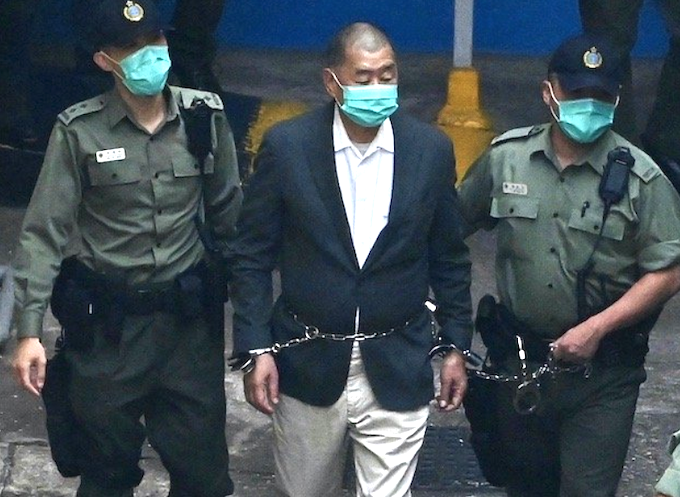 Just hours after Reporters Without Borders (RSF) and 116 publishers, editors-in-chief, and senior editors from around the world called for the release of Apple Daily founder and RSF Press Freedom Prize laureate Jimmy Lai (in Cantonese: Lai Chee-ying), the Hong Kong government responded with a veiled threat.
It published a statement threatening in veiled terms the "organisations and individuals" who "interfere with the judicial proceedings" without explicitly mentioning RSF or the signatories to the call.
In the Hong Kong government's views, calling for Lai's release "is very likely to constitute the offence of criminal contempt of court or the offence of perverting the course of justice," which could carry a sentence of respectively two and seven years in prison under the Criminal Procedure Ordinance in Hong Kong.
The statement also claimed, against mounting evidence to the contrary, that press freedom was still being "respected and protected" in the territory.
It also said that the arrest and prosecution of Jimmy Lai and other press freedom defenders were "completely unrelated to the issue of press freedom".
"Over the past decade, Jimmy Lai and the media outlets he founded have consistently been the victims of harassment from the Hong Kong government, and the target of violent attacks for which no serious investigation has been made," said Cédric Alviani, RSF's East Asia Bureau director, in a statement.
"The downfall of press freedom in Hong Kong is abundantly documented, with at least seven media shut down and 13 journalists and press freedom defenders still detained to date."
Over the past three years, in line with Chinese leader Xi Jinping's crusade against the right to information, the Hong Kong government has prosecuted at least 28 journalists and press freedom defenders and forced the shutdown of two major independent media outlets, Apple Daily and Stand News, while the climate of fear led at least five smaller media outlets to cease operations – moves that served as devastating blows to media pluralism in the territory.
Hong Kong ranks 140th out of 180 countries and territories in RSF's 2023 World Press Freedom Index, having plummeted down the rankings from 18th place in just two decades. China itself ranks 179th of the 180 countries and territories surveyed.
Pacific Media Watch collaborates with Reporters Without Borders.