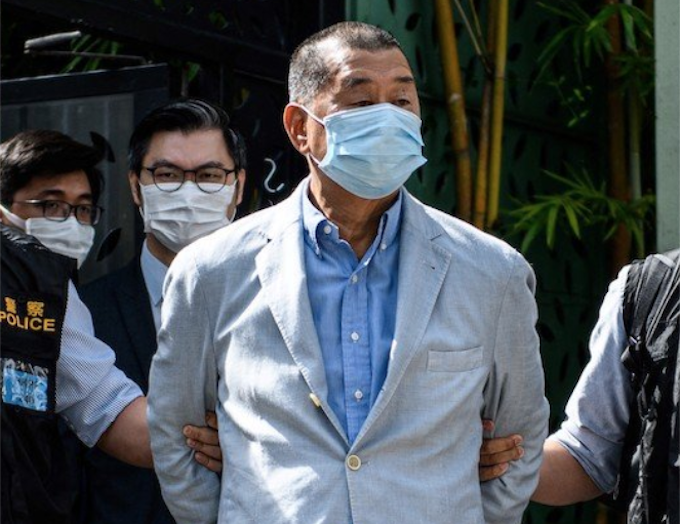 More than 100 media leaders from around the world have joined Reporters Without Borders (RSF) in signing an unprecedented joint statement expressing support for detained Apple Daily founder and publisher Jimmy Lai in Hong Kong.
They have called for his immediate release.
Among the signatories are publishers, editors-in-chief, and senior editors from 41 countries, including New Zealand — and two Nobel Peace Prize laureates.
This powerful joint statement is signed by 116 media leaders spanning 41 countries, from Egypt to Turkey, from India to Gambia, from Myanmar to Mongolia, and everywhere in between.
RSF coordinated this call in support of Jimmy Lai, who has become an emblematic figure in the fight for press freedom in Hong Kong and globally.
The action also seeks to highlight the broader dire state of press freedom in the Chinese-ruled territory, which has deteriorated sharply in recent years.
A former laureate of RSF's Press Freedom Prize, 75-year-old Jimmy Lai has worked over the past 25 years to uphold the values of freedom of speech and press through his independent media outlet Apple Daily.
Concurrent sentences
Detained since December 2020 in a maximum security jail and repeatedly refused bail, Lai is already serving concurrent sentences on charges of attending "unauthorised" pro-democracy protests and allegations of fraud.
He now faces a possible life sentence under the draconian national security law, with his trial scheduled to start on September 25.
"We stand with Jimmy Lai. We believe he has been targeted for publishing independent reporting, and we condemn all charges against him," said the RSF and co-signatories.
"We call for his immediate release."
They also called for the release of all 13 currently detained journalists in Hong Kong, and for any remaining charges to be dropped against all 28 journalists targeted under national security and other laws over the past three years.
Among the signatories are 2021 Nobel Peace Prize laureates Dmitry Muratov (Novaya Gazeta, Russia) and Maria Ressa (Rappler, the Philippines); publisher of The New York Times A.G. Sulzberger; publisher of The Washington Post Fred Ryan; CEO Goli Sheikholeslami as well as editor-in-chief Matthew Kaminski of Politico (USA); editors from a wide range of major UK newspapers including Chris Evans (The Telegraph), Tony Gallagher (The Times), Victoria Newton (The Sun), Alison Philipps (The Daily Mirror); Ted Verity (Mail newspapers), and Katharine Viner (The Guardian); editor-in-chief of Libération Dov Alfon, editorial director of L'Express Éric Chol and director of Le Monde Jérôme Fenoglio (France); editors-in-chief of Süddeutsche Zeitung Wolfgang Krach and Judith Wittwer, and editor-in-chief of Die Welt Jennifer Wilton (Germany); editor-in-chief of Expressen Klas Granström (Sweden); and many more from around the world.
Among the signatories is Dr David Robie, editor and publisher of the New Zealand-based Asia Pacific Report.

The RSF appeal over Apple Daily founder and publisher Jimmy Lai.
'Powerful voices'
"We have brought these powerful voices together to show that the international media community will not tolerate the targeting of their fellow publisher. When press freedom is threatened anywhere, it is threatened everywhere," said RSF's secretary-general Christophe Deloire in a statement.

"Jimmy Lai must be released without further delay, along with all 13 detained journalists, and urgent steps taken to repair the severe damage that has been done to Hong Kong's press freedom climate over the past three years, before it is too late."
Jimmy Lai's son Sebastien said: "Hong Kong is now a city shrouded in a blanket of fear. Those who criticise the authorities are threatened, prosecuted, imprisoned. My father has been in prison since 2020 because he spoke out against CCP [Chinese Community Party] power.
"Because he stood up for what he believes in. It is deeply moving to now see so many powerful voices — Nobel prize winners, and many of the leading newspapers and media organisations across the world — speak out for him."
Over the past three years, China has used the national security law and other laws as a pretext to prosecute at least 28 journalists, press freedom defenders and collaborators in Hong Kong — 13 of whom remain in detention, including Lai and six staff of Apple Daily.
The newspaper itself was shut down — a move seen as the final nail in the coffin of press freedom in Hong Kong.
Hong Kong is ranked 140th out of 180 countries in RSF's 2023 World Press Freedom Index, having plummeted down the rankings from 18th place in just 20 years.
China itself ranked 175th of the 180 countries and territories surveyed.