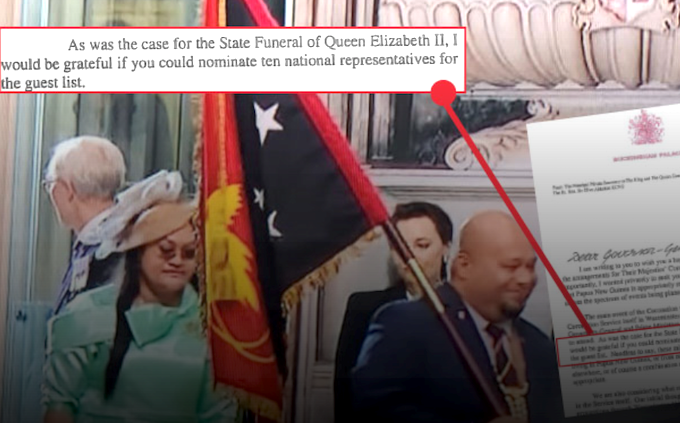 Papua New Guinea was allowed 10 people to be invited to witness the Coronation of King Charles III on in London on May 6 as the government released the names of the of 27 delegates as the controversy over the largest Pacific contingent continued.
According to the list confirmed by the Post-Courier, the 10 included:
Governor General Sir Bob Dadae,
Lady Emeline Dadae,
Foreign Affairs Minister Justin Tkatchenko,
Savannah Tkatchenko,
Speaker of National Parliament – who was represented by Deputy Speaker Koni Iguan as the speaker was acting Governor-General,
Deputy Clerk of Parliament Basil Kambuliagen — representing Parliamentary Services,
Renbo Paita — Representing the Government as senior state minister,
Taies Sansan — Representing the his Majesty's loyal public servants,
Official Secretary to Government House Bill Toraso, and
Junelyn Veratau, Executive Officer to Secretary Personnel Management.
READ MORE: Elitist, insensitive, blatant abuse of taxpayer money – PNG's Coronation trip saga
Other PNG Coronation saga reports
However, due to protocol to be observed, PNG had to have a flag bearer and
Noel Leana, the acting Chief Protocol Officer, carried the flag.
Due to the strict protocols in place, Minister Paita was not able to be seated inside Westminster Abbey because only 10 were allowed to observe the proceedings of the Coronation.
Only six returned invitations
Information received by the Post-Courier shows that of the 10, only six sent through their official invites to be seated inside the Westminster Abbey.
The six included Tkatchenko and his daughter Savannah, Iguan, Sansan, Ms Veratau and Minister Paita.
As is protocol, those invited to walk into the Abbey included Governor-General Sir Bob Dadae, Lady Emeline and Mr Leana.
According to Government House, all the 10 invited guests that went attended the Coronation at Westminster Abbey .
Government House has confirmed that the former Member for Nawaeb, Gisuat Siniwin, was selected to go with the delegation as a senior citizen and in recognition for his service to Morobe and the Highlands as a secondary school head teacher for 40 years and five years as Member of Parliament.
As part of the official delegation, there was supposed to be a platoon of  PNG Defence Force members but it was represented by only five soldiers who took part in the procession in  PNG royal colours.
The invitation from Buckingham Palace was sent earlier this year in January and all arrangements were made in advance.
Traditional GG's team
According to Government House Official Secretary Bill Toraso, who provided the list before departure for the coronation, the traditional 12-member team from Government House that accompanied the Governor-General were:
Madeline Dusse — Press Secretary to GG,
Bill Toraso — Official Secretary to Government House,
Basil Andon — Private Secretary,
Inspector Arau Mairi — Police ADC,
Sergeant Christopher Patgawi — PNGDF CPO /GG's Driver,
Mathew Ding — GG protocol Officer,
Telita Uware — Official Secretary's Personal Assistant,
Winnie Ben — Finance Director,
Keswol Joseph =– GG's Valet, and
Marlia Kukuone- Lady in waiting.
The other members of the delegation whose names were sent to London and were approved to accompany the invited guests as protocol officers and personal assistants were:
Daniel Karara — Prime Minister's Protocol Officer,
Josie Pits — Prime Minister's Personal Assistant, and
Morea Baru — Flag Bearer. (However, Baru did not attend.)
The list of officers from the Foreign Affairs Ministry that accompanied Foreign Minister Justin Tkatchenko were:
Barbara Mimino — Consultant/Protocol Officer,
Ronnie Kwari — Bodyguard,
Derick Michael, National Parliament Protocol Officer
Pacific Media Watch reports that it is estimated that PNG taxpayers paid out more than NZ$1 million for the London trip and a similar amount for an "unnecessary" public event in Port Moresby around the live telecast of the coronation.
Republished with permission.