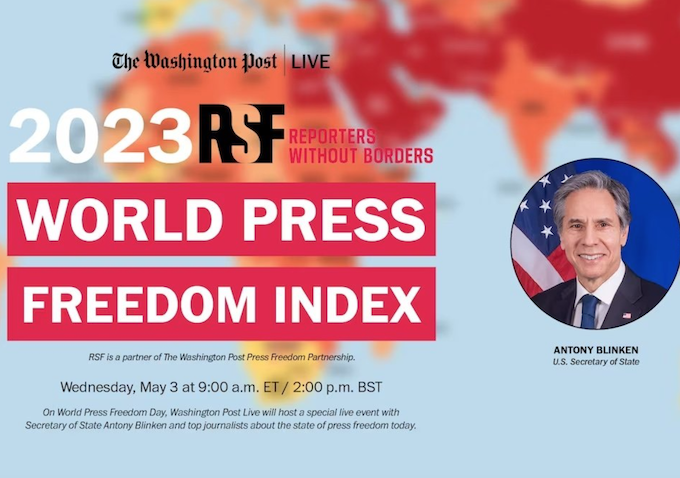 Pacific eyes will be on the World Press Freedom Index 2023 when it is launched today as concerns grow over the slip in the US ranking in past years.
Fiji will hope to see an improvement in its ranking from 102nd last year with the change of government last December and a commitment by the new administration to greater press freedom with the scrapping of the draconian Fiji media law last month.
However, the index survey is based on the 2022 research by the Paris-based Reporters Without Borders (RSF) media freedom watchdog and is unlikely to yet reflect the current changes in Fiji.
The US has signalled its greater engagement with media freedom issues with Secretary Antony Blinken participating in the live launch of the 2023 Index rankings in Washington today.
"The United States has a responsibility to promote and embody the values of press freedom around the world," said RSF's Washington bureau executive director Clayton Weimers.
"Secretary Blinken's participation in this live event is a welcome commitment to those values.
"We look forward to continuing to work together to create even more concrete action that makes journalists around the world safer and protects everyone's right to information."
Protecting journalists
RSF is a member of the Washington Post's Press Freedom Partnership, which brings together nonprofit organisations working to protect journalists and raise awareness for the issues journalists face.
RSF's World Press Freedom Index has become an important global tool to measure press freedom, scoring and ranking 180 countries and territories.
Each year's Index prompts reactions from officials around the world, including the White House's reaction in 2018 to the US drop in ranking.
The US is ranked 42nd in the 2022 World Press Freedom Index, published by RSF.
This position is due to a small number of outlets controlling the media narrative, the disappearance of local news, as well as polarisation and distrust in the media.
As one of the world's oldest democracies and the country of the First Amendment, the US has the potential to develop as a stronger leader in the promotion and protection of press freedom around the world, while also setting a better example at home," said the RSF in a statement.
"RSF hopes the 2023 Index launch will mark the start of further collaboration with the Biden administration to find ways for the United States to improve its own record domestically while also using its considerable influence abroad to promote press freedom."
Tune into the event on Wednesday, May 3, 2023 at 9 am ET. Register to watch the virtual livestream at wapo.st/wpfdmay2023
Le Classement mondial de la liberté de la presse publié par @RSF_inter paraît le 3 mai. À Washington, où le secrétaire d'Etat Antony Blinken participera à un débat organisé avec le @washingtonpost, nous avons apposé 50 bannières publicitaires sur la voie publique. #PressFreedom pic.twitter.com/6TEgk0zG3p

— Christophe Deloire (@cdeloire) May 2, 2023