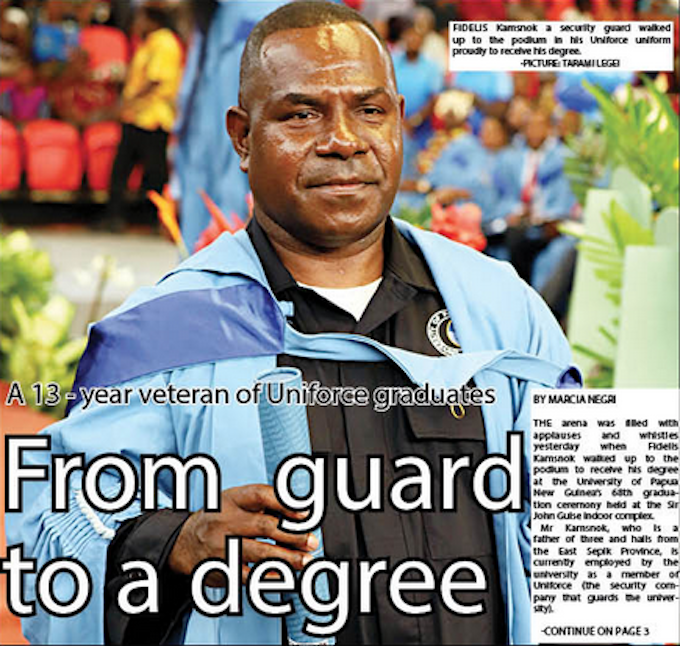 By Marcia Negri in Port Moresby
The arena was filled with applauses and whistles when Fidelis Kamsnok walked up to the podium to receive his degree at the University of Papua New Guinea's 68th graduation ceremony held at the Sir John Guise indoor complex.
Kamsnok, a father of three who hails from the East Sepik Province, is currently employed by the university as a member of Uniforce (the security company that guards the Waigani campus).
He had remained committed as a guard since joining the university in 2010 until yesterday when he graduated with a Bachelor of Arts (Professional Studies) degree.
"There were challenges as a father, working and taking on the course majoring in information and communication science.
"It was challenging in the family, looking after kids, and kids have their own needs. I have a son and two daughters, but I have to balance my needs as a father and theirs as well," the Sepik man said.
After clocking 10 years with the university as a guard, Kamsnok applied for studies back in 2020 and the commitment he has put in his studies made it possible for him to join others and walk up to the stage on Tuesday with pride and obtain his degree.
He said the university had a policy where you had to be a serving member for seven years before applying for professional studies, adding that it took three years of studies for those who wanted to attain a degree in professional studies.
'Balancing your life'
In his encouragement to others who are in similar positions, the guard said: "It's through the faith you have.
"If you have to balance your life in helping kids, then you can do that, it's possible.
"Everything is possible, you have to manage yourself."
That is what Kamsnok did for the past three years.
While studying, he managed his time between studies and work and his family.
He spoke of how privileged he was to have achieved this degree, especially getting support from his family and mainly through his uncle's endless help.
He said that without the support he would not have achieved his goal.
Marcia Negri is a PNG Post-Courier reporter. Republished with permission.