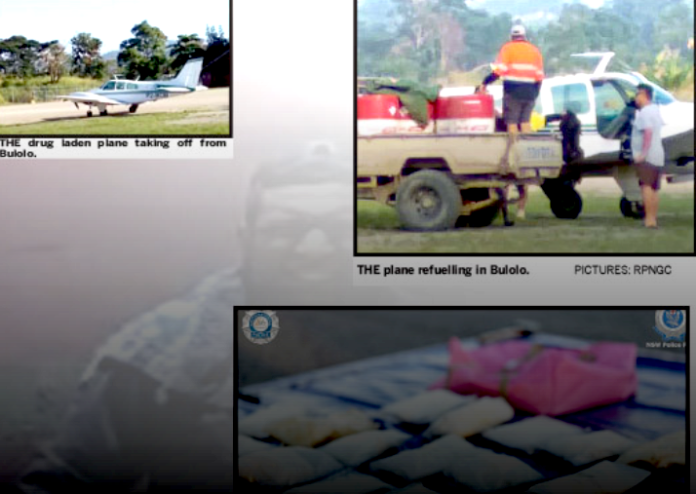 By Miriam Zarriga in Port Moresby
The production and trafficking of methamphetamine (meth), cocaine and now heroin is on the rise with Pacific countries now becoming what many are calling the "Pacific drug highway".
And Papua New Guinea has over three years seen a plane crash, a hotel laboratory, a shipment in postal services, arrival via a container ship, manufacturing in apartments and now a black flight — all to do with cocaine and meth.
Police have had Operation Weathers, Operation Saki Bomb — and now Operation Gepard.
From Operation Gepard, a pink duffle bank was stuffed into the nose of the flight from Bulolo filled with 17 packages of meth. These were transported across the border into Australia.
With the lack of border security, the country has fast become a transit point for the movement of illicit drugs into Australia.
Locals are becoming part of the movement of the drugs playing a key role in ensuring the drugs are hidden and then moved across the border.
Police Commissioner David Manning has on several occasions said "PNG is becoming a transit point for illicit and synthetic drugs".
New law not implemented
His Deputy Commissioner of Police-Special Operations and acting Director-General of the Narcotics Office, Donald Yamasombi, says the laws under the new Controlled Substance Act 2021 have yet to be implemented.
In total, 337kg of methamphetamine have been found in the country, conveyed, or in possession of people in PNG — worth K164 million (about NZ$75 million)
And the laws? They have been passed but yet no one has been sentenced under the new Controlled Substance Act 2021 and Dangerous Drug (Amended) Act 2021 pertaining to the illicit drugs.
Now another 52kg has been allowed to leave the country and travel into outback Australia where five men were arrested by the Australian Federal Police (AFP).
Commissioner Manning said the positive outcome was a result of close collaboration between the Royal PNG Constabulary (RPNGC) and Australian law enforcement partners and air traffic control agencies.
He said the RPNGC, since working with the Australian authorities, have enabled a wider net to be cast, resulting in the apprehension of transnational offenders in PNG and across the Pacific.
"With our partners we are committed to make our pacific region a hostile and disruptive environment for the transnational criminal element," Commissioner Manning said.
Strengthening drug laws
"We are also committed to strengthening our drug legislation to ensure that penalties reflect the severity of offending here in PNG."
According to Minister for Transport and Civil Aviation, Walter Schnaubelt, the airplane was able to get into PNG airspace by flying low.
"When an aircraft is operated with a criminal intent, the pilots deliberately turn off the transponders to avoid detection by radar or ADS-B," he said.
"If these surveillance tools are turned off, our systems cannot pick them up on the screen.
"Also they deliberately do not submit flight plans or talk to our controllers for the same reason (they don't want us to see or know about their illegal operations)."
In PNG, after the arrest of the five in Australia, a 42-year-old male Chinese national was arrested at Lae airport last Wednesday.
In terms of investigations, the response has been swift. However, the investigations are prolonged and it becomes a forgotten topic.
Swept under the rug
It remains swept under the rug until judgment is passed and the suspects are charged and sentenced.
So far, only David John Cutmore has been sentenced to 18 years for his part in the black flight that crashed with 644kg of cocaine on board and he was charged under the old laws.
Another seven locals and expatriates are facing court for conveying and being in possession of methamphetamine since 2022.
In total, 18 persons of interest have been arrested or apprehended over their involvement in the methamphetamine trade.
For cocaine, only one person has been sentenced with another four still facing court.
Miriam Zarriga is a PNG Post-Courier journalist. Republished with permission.