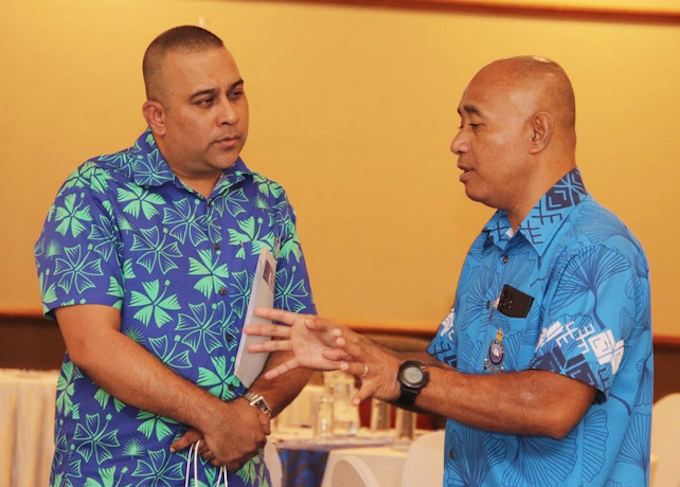 By Krishneel Nair in Suva
"The most important thing from my perspective is a strategic partnership — a partnership where the media should not be seen as the enemy or a nuisance."
This was the view of the Communications Fiji Ltd news director and Fijian Media Association executive Vijay Narayan expressed at a media segment of the Police Consultative Session in Suva yesterday.
Narayan said the media and the police had the same goals and objectives "focusing on truth, integrity, accountability and transparency".
He said the media was ready to have regular meetings with the senior command of Fiji's Police Force, and also extended an invitation to the Acting Police Commissioner Juki Fong Chew and his senior officers to visit individual media outlets to understand their work.
Narayan said that at times there was a disconnect where the only time the media was called in was when police wanted to say something or maybe when there was a major issue at hand.
He said he remembered that the Crime Stoppers Board also included members of the media and media organisations.
He added that they "fought the fight together".

Communications Fiji Ltd news director Vijay Narayan speaking at the police workshop. Video: Fijivillage
Police need 'humanising'
Narayan encouraged police to engage more with the public through media conferences as the Police Force also needed to be "humanised", and not just focus their message on posting to their social media page.
The CFL news director said that at times they might not be on the same page but the tough questions needed to be asked.
Fiji Sun's investigative journalist Ivamere Nataro said some people she spoke to did not understand the work of the police and kept requesting frequent updates.
Nataro said that in this digital age, news spread faster on social media and if the police did not open up to the mainstream media, it was another thing that people looked at.
She said police needed to engage more with the community and show that they cared.
Commissioner agrees
While responding to the media, Acting Commissioner Chew said he agreed with what had been said, and moving forward the police would try to improve.
But Chew also gave an example of when a story had been published alleging that someone had been tortured.
He said the story was published and they did not know whether it was true or false.
When the matter was investigated, the issue just died out.
He said that if they manage to find that person, he or she would be taken to task for giving false information.
Krishneel Nair is a Fijivillage reporter. Republished with permission.