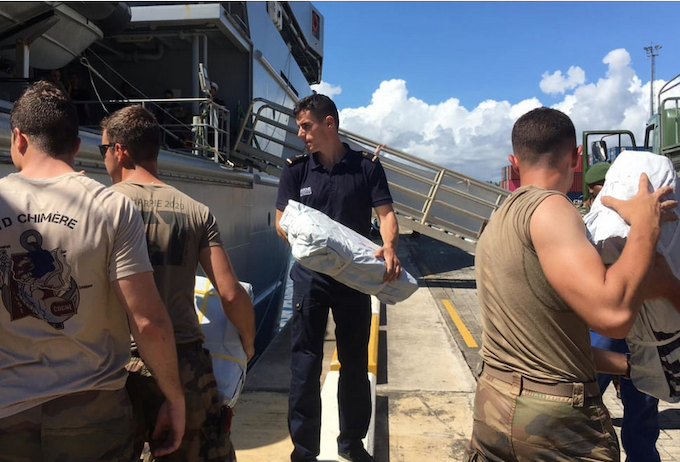 By Caleb Fotheringham, RNZ Pacific journalist
Vanuatu's Minister of Climate Change warns "there's going to be a lot of hardship" for people waiting for their crops to grow back as dry rations are distributed to communities.
Minister Ralph Regenvanu said the main food push started in the middle of last week, with only a small amount of supplies being handed out in the immediate aftermath of the severe back-to-back cyclones.
He said there had been logistical issues in getting the food distributed, but dry rations should reach everyone in the two worst affected provinces, Shefa and Tafea, by the end of this week.
"It's not really ideal but it's still within the timeframe we've set which is three weeks from the cyclone and those three weeks end about now," Regenvanu said.
"People are frustrated, they're waiting for food, some are waiting for shelter and supplies so they can rebuild.
"As with every disaster of this magnitude, there's a lot of frustration with the ability of the government and other partners to respond in a timely manner, but that's just issues of capacity within the government and our donor partners."
Regenvanu said gardens, which were the main source of food for people, had been damaged.
"There's going to be a lot of hardship while we wait for the gardens to regenerate," he said.
"The food cluster is also giving out lots of seeds and gardening tools to assist people to start planting which should have started happening immediately after the cyclone."
Rivers, streams polluted
Soneel Ram from Vanuatu Red Cross said the two most urgent needs were access to shelter and clean drinking water.
"Most of the houses have been damaged and some have been completely destroyed by the strong winds," Ram said.
"Some have been shoved out to sea as a result of floods.
"Most of the villages rely on rivers and streams as the source of their drinking water; because of the cyclones the debris has actually polluted these water sources."
He said Vanuatu Red Cross handed out jerry cans for people to store water. The organisation has also raised awareness for safe hygiene practices like boiling water before drinking.
Ram said the subsistence farmers he spoke with were down to their last week or two of food supplies.
Minister Regenvanu said money would be given out alongside food so households could purchase whatever they needed.
Non-government organisations were also providing additional relief, he said.
"So we hope that that will mean nobody's terribly negatively affected by being hungry."
Assessment difficult
Regenvanu said the assessment of the damage was quite difficult to do because a lot of communication systems were knocked out.
However, last week most of the assessments had returned.
Regenvanu said not all communication had been restored around the country.
He estimated phone connection was down from a baseline of about 60 to 70 percent to around 50 percent around the country.
This article is republished under a community partnership agreement with RNZ.