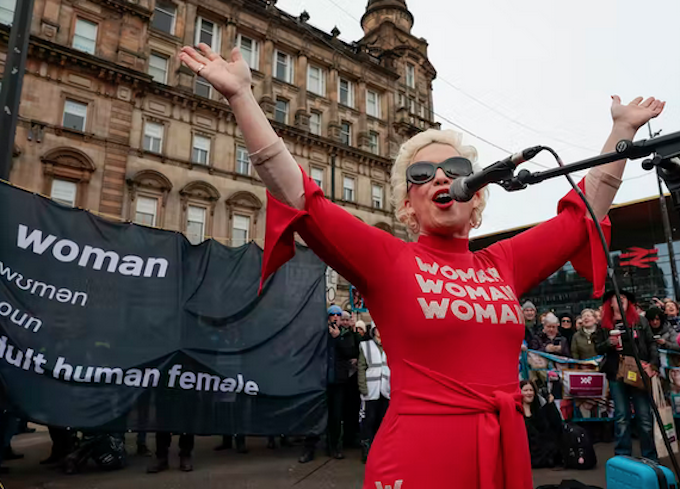 ANALYSIS: By Bevin Veale, Massey University
The impending arrival of Kelly-Jean Keen-Minshull — aka Posie Parker — has put the spotlight on the tension between free speech and protecting vulnerable communities in Aotearoa New Zealand.
In particular, it raises questions about Immigration New Zealand's role in limiting who can visit and speak in the country.
Keen-Minshull is an anti-transgender rights activist and founder of a group called Standing for Women. On the back of a controversial Australian tour, she is planning to speak at a series of events across Aotearoa at the end of March.
But Immigration New Zealand is now reviewing her status after about 30 members of the far-right Nationalist Socialist Movement supported her rally in Melbourne, clashing with LGBTQI supporters.
The Melbourne police were also criticised by legal observers, accused of protecting and supporting the neo-Nazis while focusing "excessive violence" on the LGBTQI supporters.
Anti-transgender activist Posie Parker to be allowed into New Zealand https://t.co/bx8C3JS2Jg

— RNZ News (@rnz_news) March 22, 2023
Meanwhile, National Party leader Chris Luxon has said Keen-Minshull should be allowed into New Zealand on the grounds of free speech. He argued there should be a "high bar" to stop someone entering the country because of what they say.
At the same time, Prime Minister Chris Hipkins has said he condemned people who used their right to free speech in a way that deliberately sought to create division. Therein lies the core of the debate.
Members of a neo-Nazi group made Nazi salutes on Saturday on the steps of Parliament House in Melbourne, Australia, during a protest against transgender rights. Political leaders said they would move to ban Nazi salutes in the state of Victoria.https://t.co/0CHFICjr93

— The New York Times (@nytimes) March 20, 2023
Threat to public order
Keen-Minshull has allegedly had ties to white supremacist organisations, featuring in videos with Jean-François Gariépy, a prominent far-right YouTuber, and posting a selfie with Hans Jørgen Lysglimt Johansen, a Norwegian neo-Nazi known for Holocaust denial.
Keen-Minshull has also tweeted racist diatribes against Muslims.
The key question is whether the threat of unrest seen at Keen-Minshull's events poses sufficient risk to public order to justify revoking her visa. It turns out there is a precedent for blocking entry to controversial figures.
In 2014, hip hop collective Odd Future was prevented from entering New Zealand on the grounds they and their audience had been implicated in violence against police and directing harassment towards opponents.
In one instance, members of Odd Future reportedly urged fans to attack police, leaving one officer hospitalised.
Odd Future member Tyler the Creator also unleashed a tirade against an activist who tried to have his Australian concert cancelled. Both instances were offered as reasons to prevent the collective from entering New Zealand.
Character judgements
The Immigration Act stipulates that individuals who are likely to be "a threat or risk" to security, public order or the public interest should not be eligible for a visa or entry permission.
In the past, good character requirements outlined by the act, including criminal background or deportation from other countries, have been used as a reason to block controversial speakers from entering New Zealand.
For example, Steven Anderson of the Faithful Word Baptist Church was denied entry to New Zealand after being deported from other countries.
Anderson has been known to promote Holocaust denial and has confirmed he believes in "hating homosexuals".
On the flip side, alt-right speakers Stefan Molyneux and Lauren Southern were granted entry visas in 2018 after meeting character requirements, despite calls for the pair to be banned from entering New Zealand.
Potential harm
Arguably, Keen-Minshull should not be granted entry under the banner of free speech. Rallies like those recently held in Australia do appear to cause concrete harm.
Research after the Christchurch Call, a political summit initiated by former prime minister Jacinda Ardern in 2019 after the Christchurch massacre, found expanding extremist communities increased the risk of physical attacks in the future.
According to the 2018 Counting Ourselves survey, some 71 percent of trans people reported experiencing high or very high rates of mental distress, and 44 percent experienced harassment during the 2018 survey period.
Research shows that trans people experience "minority stress" — high levels of chronic stress faced by socially marginalised groups, caused by poor social support, low socioeconomic status and prejudice.
A key part of "minority stress" is linked to anticipating and attempting to avoid discrimination.
Being consistent
Beyond the question of free speech, Immigration New Zealand needs to be consistent in its application of the law. In the case of Odd Future, an Immigration official admitted it was unusual to ban musical acts:
Generally it's aimed at organisations like white supremacists and neo-Nazis, people who have come in here to be public speakers, holocaust deniers – those kinds of people.
However, Immigration stood by its decision based on the lead singer's incitement of violence against police and harassment of an activist. Considering the ruling on Odd Future as a risk to public order, it would surely be inconsistent to allow Keen-Minshull entry.
In 2018, she was spoken to by UK police for making videos criticising the chief executive of transgender charity Mermaids. And, in 2019, Keen-Minshull recorded herself in Washington DC confronting trans advocate Sarah McBride after breaking into a private meeting.
Encouraging the far-right?
In the post-covid era, New Zealand has already seen a more visible far-right anti-LGBTQI movement. There has been a rise in harassment and attacks against LGBTQI communities across the country, including the arson of the Tauranga Rainbow Youth and Gender Dynamix building.
We need to listen to those targeted by hate groups — it is their safety that is at risk from speakers who deny their existence and humanity.
The line between free speech and causing harm is complicated to draw. But this case seems clear cut. Whether you agree or disagree with the 2014 decision to bar Odd Future entry to New Zealand, the precedent has been set for visitors who pose a threat to public order.

Kevin Veale, Lecturer in Media Studies, part of the Digital Cultures Laboratory in the School of Humanities, Media, and Creative Communication, Massey University. This article is republished from The Conversation under a Creative Commons licence. Read the original article.