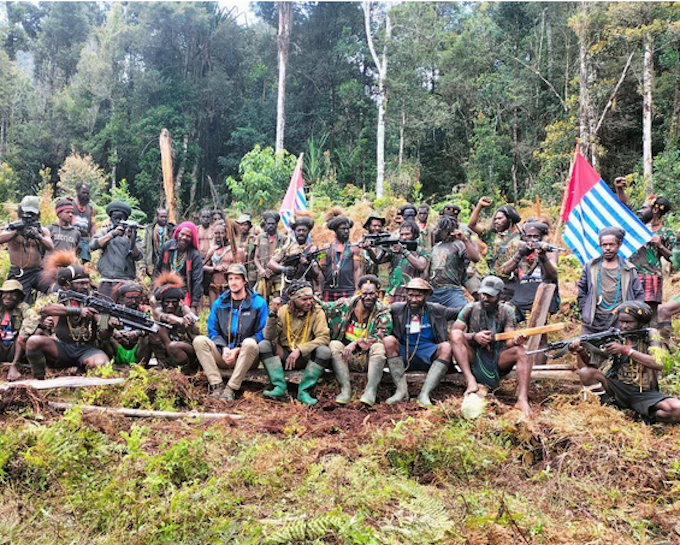 Tabloid Jubi in Jayapura
The United Liberation Movement for West Papua (ULMWP) has called on the international community to "pay serious attention" to the escalated violence happening in West Papua.
Head of ULMWP's legal and human rights bureau, Daniel Randongkir, said that since the West Papua National Liberation Army (TPNPB) — a separate movement — took New Zealand pilot Philip Mehrtens hostage last month, tensions in the Papuan central mountainous region had escalated.
The New Zealand government is pressing for the negotiated peaceful release of Mehrtens but the Indonesian security forces (TNI) are preparing a military operation to free the Susi Air pilot.
Randongkir said the TPNPB kidnapping was an effort to draw world attention to the ongoing humanitarian crisis in Papua, and to ask the international community to recognise the political independence of West Papua, which has been occupied by Indonesia since May 1, 1963.
Negotiations for the release of Mehrtens, who was captured on February 7, are ongoing but TPNPB does not want the Indonesian government to intervene in the negotiations.
Randongkir said that in the past week, there had been armed conflict between TPNPB and TNI in Puncak Papua, Intan Jaya, Jayawijaya, and Yahukimo regencies. This showed the escalation of armed conflict in Papua.
According to Randongkir, since 2018 more than 67,000 civilians had been displaced from conflict areas such as Intan Jaya, Nduga, Puncak, Puncak Jaya, Yahukimo, Bintang Mountains, and Maybrat regencies.
Fled their hometowns
They fled their hometowns to seek refuge in other areas.
On March 16, 2023 the local government and the military began evacuating non-Papuans in Dekai, the capital of Yahukimo Regency, using military cargo planes.
"Meanwhile, the Indigenous people of Yahukimo were not evacuated from the city of Dekai," Randongkir said in media release.
ULMWP said that the evacuation of non-Papuans was part of the TNI's preparation to carry out full military operations. This had the potential to cause human rights violations.
Past experience showed that TNI, when conducting military operations in Papua, did not pay attention to international humanitarian law.
"They will destroy civilian facilities such as churches, schools, and health clinics, burn people's houses, damage gardens, and kill livestock belonging to the community," he said.
"They will arrest civilians, even kill civilians suspected of being TPNPB members."
Plea for Human Rights Commissioner
Markus Haluk, executive director of ULMWP in West Papua, said that regional organisations such as the Pacific Islands Forum and the African Caribbean Pacific bloc, have called on the United Nations Human Rights Council to immediately send the UN High Commissioner for Human Rights to West Papua.
ULMWP hoped that the international community could urge the Indonesian government to immediately stop all forms of crimes against humanity committed in West Papua, and bring about a resolution of the West Papua conflict through international mechanisms that respect humanitarian principles, Haluk said.
Haluk added that ULMWP also called on the Melanesian, Pacific, African, Caribbean and international communities to take concrete action through prayer and solidarity actions in resolving the conflict that had been going on for the past six decades.
This was to enable justice, peace, independence and political sovereignty of the West Papuan nation.
Mourning for Gerardus Thommey
RNZ Pacific reports that Papuans are mourning the death of Gerardus Thommey, a leader of the liberation movement.
Independence movement leader Benny Wenda said Thommey was a regional commander of the West Papuan liberation movement in Merauke, and since his early 20s had been a guerilla fighter.
He said Thommey was captured near the PNG border with four other liberation leaders and deported to Ghana, and lived the rest of his life in exile.
Wenda said that even though he had been exiled from his land, Thommey's commitment to a liberated West Papua never wavered.
Republished with permission.
— Benny Wenda (@BennyWenda) March 20, 2023