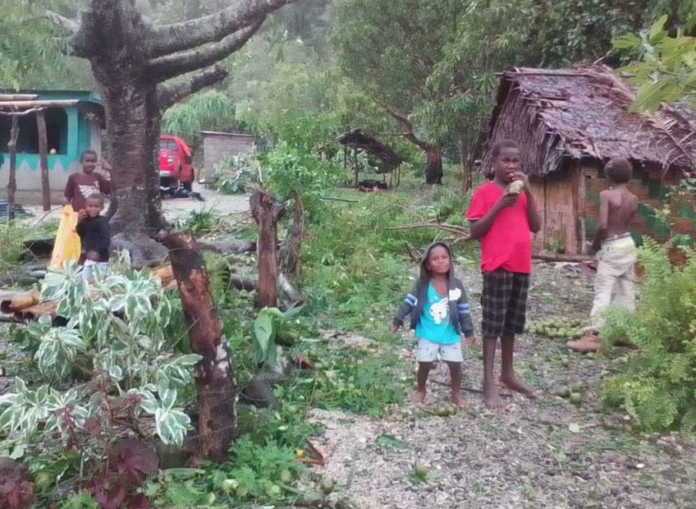 By Caleb Fotheringham, RNZ Pacific reporter
Tens of thousands of ni-Vanuatu children could be experiencing "stress and trauma" after the double cyclones that tore through the island nation last week, says an educator.
With widespread damages to infrastructure, many children have lost their homes, had their schools damaged, and neighbourhoods hit hard by tropical cyclones Judy and Kevin.
Port Vila International School teacher Cassidy Jackson-Caroll told RNZ Pacific it was important to prioritise school-aged children's wellbeing during these times.
Jackson-Caroll said that requires all stakeholders to move quickly and restore a sense of normalcy and enable children to return to school.
"It is quite important [for schools to open]," she said, while noting the large-scale devastation caused by the twin cyclones.
"One thing I thought is the kids want to see their friends. They have spent a lot of time time at home tucked up with their families, which is very important [during cyclones]. But they also need a little relief to see that their friends are okay."
She said no electricity and no running water is an issue across the country which means schools remain affected.
But she is hoping the situation will improve by next week and those children who can return to school will be able do so.
"I think it is important even if it is half days or two or three days a week for some kids that is enough because some are going to be traumatiSed," she said, adding Port Vila International School will have a "soft opening" on Wednesday.
"Sometimes they might just need to see their friends and go and play some soccer or just have a hug. They just need to laugh away from the anxiety and stress and trauma that they might have at home," she added.
Schools, health centres 'damaged'
UNICEF estimates up to 58,000 children have been impacted and those in the worst affected provinces of Tafea and Shefa needing urgent assistance.
The UN agency's Pacific representative Jonathan Veitch said "with power still out in many places, and boats and planes grounded or damaged, we still don't have enough information on the impact of children in the outer islands of Tafea."
"We know that schools and health centres have been damaged throughout the country."
"UNICEF Pacific, in partnership with the government, has begun to support the children and families most affected," he added.
Preliminary reports indicate that almost the entire population has been affected.
World Vision Vanuatu country director Kendra Derouseau said they are expecting similar destruction to Tafea province that occured following Cyclone Pam in 2015.
"We know that most homes will be partly or completely destroyed," Derouseau said.
Food sources scarce
"The vast majority of the population in Tafea are subsistence agricultural farmers so food sources will be scarce and water sources will be contaminated."
She confirmed that there were about 2000 people still in evacuation centres on Efate.
"People tend to sleep in the evacuation centres, leave vulnerable individuals and a carer in the centres during the day, and then go back to their homes to try and build and repair and then come back to sleep at night."
But Derouseau said the number of people in evacuation centres were decreasing as people felt safe to go back to their home.
Meanwhile, New Zealand has sent relief supplies including water containers, kits for temporary shelters, and family hygiene kits and an initial financial contribution of NZ$150,000.
Foreign Affairs Minister Nanaia Mahuta said the government was working closely with Vanuatu to support this response, together with France and Australia.
This article is republished under a community partnership agreement with RNZ.