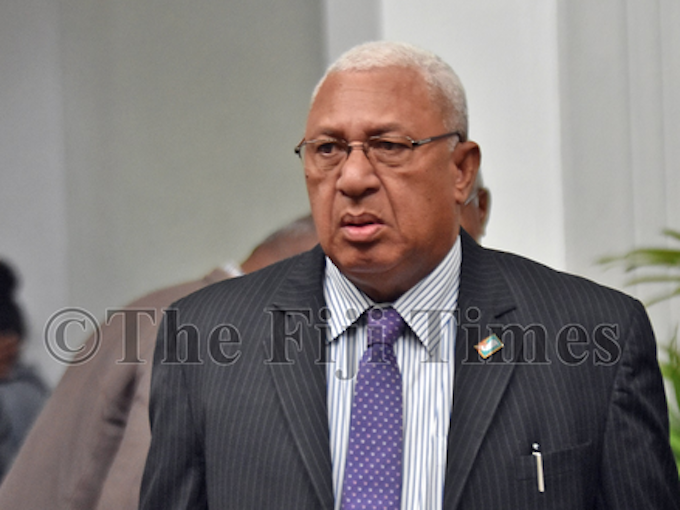 By Shayal Devi in Suva
FijiFirst leader Voreqe Bainimarama remains as Leader of the Opposition despite his suspension from Parliament on Friday for breach of privilege, according to Fiji constitutional lawyer Richard Naidu.
Naidu told the Sunday Times he believed that Bainimarama was entitled to retain the salary and other rights that go with the job — although "there might be a legal argument" about that.
He said that the Leader of the Opposition was different from other MPs who had previously been suspended.
"He is not an ordinary MP. His position is established under the Constitution. Under Section 78, he is elected from among the Opposition members," he said.
"Under Section 78 of the Constitution, he keeps his job even after the dissolution of Parliament."
Naidu said the Opposition Leader had other constitutional roles outside Parliament, including being a member of the Constitutional Offices Commission (COC).
"He is also one of the people who may nominate a new President for Parliament to vote on under Section 84.
'Must not be varied'
"It seems that he can continue to do these jobs — and to keep his salary, which Section 80 of the Constitution says "must not be varied to his disadvantage".
"Other suspended MPs have had their salary payments suspended while out of Parliament.
"So there might be a legal argument about that.
"But other suspended MPs did not hold a substantive office as Mr Bainimarama does."
Naidu said that despite the suspension, Bainimarama remained an MP — however, he could not attend Parliament for three years.
"While he is suspended, he is not replaced in Parliament. This means the voting strength of the FijiFirst Party drops to 25 while he is suspended.
"It is for the Opposition MPs to work out how they will operate in Parliament while Bainimarama isn't there. But while he continues to hold the post, a new Leader of the Opposition cannot be appointed.
Could be voted out
"Under the Constitution, if a majority of Opposition members want Bainimarama out, they could vote him out.
"He could resign as Leader of the Opposition only and keep his seat as an MP. Or he could resign both as Leader of the Opposition and as an MP.
"If he resigned as an MP, a new FijiFirst Parliamentarian would come in; the next one on the list of candidates who missed out in the 2022 election."
Questions regarding the suspension were sent to both Bainimarama and FijiFirst party general secretary Aiyaz Sayed-Khaiyum yesterday.
However, no response was obtained when this edition of the newspaper went to press.
Shayal Devi is a Fiji Times reporter. Republished with permission.