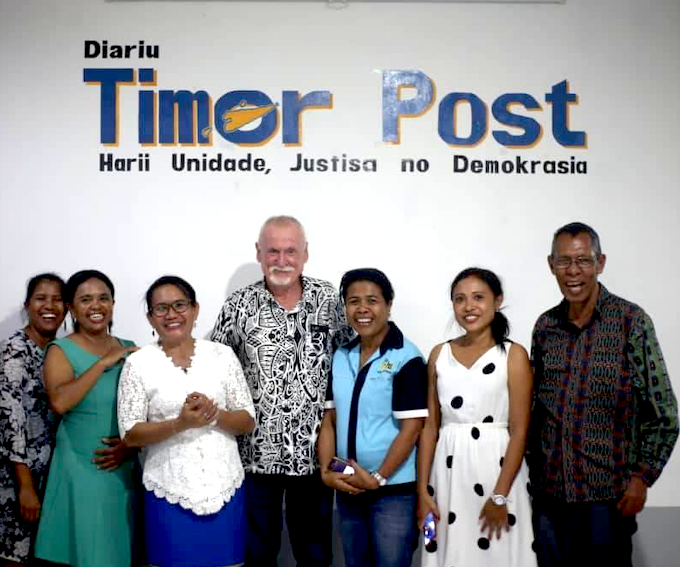 The National in Port Moresby
Papua New Guinea's new media draft policy would put a stop to reporting news not regarded as "positive" for the country's image, says former PNG Media Council director Bob Howarth.
Howarth, who was director from 2001-2005, said that the national government needed to seriously look at the way the media scene in Timor-Leste had thrived from next to nothing in 1999 when its violent emergence from foreign occupation became full democracy.
"The small nation has the highest press freedom ranking in the region and has a very active press council supported by the UNDP [United Nations Development Programme] and several foreign NGOs," said Howarth, who as well as advising Timor-Leste media has helped editorial staff on several newspapers.
"[The Timor-Leste Press Council] has a staff of 35 and runs professional training for local journalists in close co-operation with university journalism schools."
"Visiting foreign reporters don't need special visas in case they write about 'non-positive' issues like witchcraft murders, tribal warfare corruption or unsold Maseratis."
The National Media Development Policy has been public since February 5 and already it has been soundly criticised for "hasty" consultations on the draft law and a tight deadlne for submissions.
University input
Howarth said that with easier online meetings, thanks to Zoom PNG's new look, the media council could include input from the University of Papua New Guinea (UPNG) and Divine Word journalism schools plus a voice from critical regions such as Bougainville, Western Highlands and Goroka.
"And Timorese journalists can easily contact their President, José Ramos-Horta, a staunch defender of press freedom and media diversity, without going through government spin doctors," he said.
Howarth said the PNG government could look into the media scene in Timor-Leste to do their media policy.
Meanwhile, in Brisbane the Media Entertainment and Arts Alliance (MEAA) — Australia's main union representing journalists — has passed a resolution endorsing support for the PNG Media Council.
"MEAA supports the [MCPNG] concerns about the possible impact of the government's draft National Media Development Policy on media freedom; regulation of access to information; and the restructuring of the national broadcaster, including proposed reduction in government funding," said the MEAA resolution.
Republished with permission.