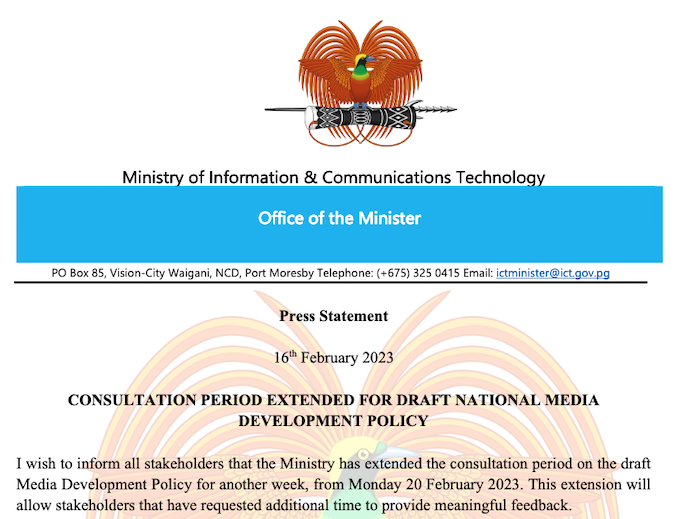 By Rebecca Kuku
Media is not a tool of government to promote its agenda — however altruistic that agenda may be, says media academic Dr Susan Merrell of Sydney University.
Dr Merrell said this in response to the Papua New Guinea government's new draft national media development policy.
The deadline for submissions has been pushed back a week from 20 February 2023 after protests that the consultation on such an important policy has been "too rushed".
Dr Merrell said the first two paragraphs (under "purpose") of the media policy draft dated 5 February 2023 which stated, "the purpose of this policy is to outline the objectives and strategies for the use of media as a tool for development, such as the promotion of democracy, good governance, human rights, and social and economic development," said it all.
"The only media doing that, should be their own (government) public relations department.
"Newspapers are not to be mixed with public relations departments.
"In fact, the role of media, acting as the Fourth Estate is to keep the government honest," she said.
Dr Merrell said that according to the draft, if approved, mainstream media would not be able to publish anything regarded as "anti-government" or anything "detrimental" to the country's good image.
"Instead of the media being the government's watchdog, the government is trying to become the media's watchdog," she said.
"What the policy maker must understand is that the media is concerned with the 'public' interest not the 'national' interest.
"It's not the same thing. For example: the Australian media reported on the Australian government spying on Timor-Leste and Indonesia although this story and revelation was embarrassing and not in the national interest.
"It was in the public's interest to know this was how their government had conducted itself."
Rebecca Kuku is a reporter for The National. Republished with permission.