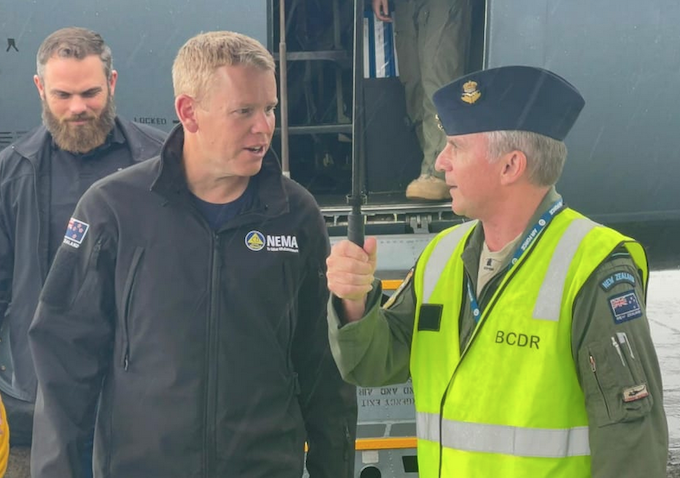 Prime Minister Chris Hipkins has acknowledged the way Aucklanders have come together and opened their homes to those in need, with the New Zealand government focused on providing the resources needed to get the city back up and running.
The new prime minister — just four days into the job — has been speaking to media after assessing flood damage and talking to locals around West Auckland this afternoon.
Hipkins was joined by Auckland mayor Wayne Brown and Emergency Management Minister Kieran McAnulty in northwest Auckland.
With three deaths now confirmed, the prime minister offered his condolences to the families of the deceased.
He said he was focused on supporting Aucklanders through this event and providing the full resources to get Auckland back up and running in the safest way possible
"I want to focus on getting Auckland through the next period."
Hipkins said the government's priority was to ensure Aucklanders were housed. He said there was an assessment of public and community housing underway today.
Having surveyed the damage, he said it was clear it was going to be a big clean up job after Auckland's wettest day on record.
Watch a live stream here

PM Chris Hipkins and mayor Wayne Brown speaking.      Video: RNZ News
Hipkins said it was important for Aucklanders to avoid unnecessary travel and to stay out of the water.
He said this was the time to check in with loved ones and "take care of each other".
He acknowledged the way Aucklanders had come together and opened their homes to those in need, when dealing with an unprecedented event in recent memory
The prime minister said Aucklanders should expect more rain — "don't take the good weather for now for granted".
Hipkins thanked those working in the emergency services, the lines companies, supermarkets and health sector.
'Tough night for all'
Mayor Wayne Brown said last night was a "tough night for all".
Brown said he shared concerns and worries for families deeply affected — especially those who had lost their lives.
He said the response to the storm last night took a lot of concentration, happened quickly and the response was way quicker than people believed.
"Everyone was out there way before [the emergency was declared] and lasted all night long."
He said he followed the advice of the professionals when deciding whether to declare an emergency.
"It's not something you do lightly."
He said the council would review "everything that took place".
'Lessons to be learned'
Hipkins said he accepted people would have questions and observations — and there would be an appropriate time soon to go through those.
"There will be lessons to be learned from the experience.
"The most important thing is supporting Auckland through the next 24 hours and beyond."
Duty Controller Andrew Clark from Auckland Emergency Management said the event was "beyond anything we've ever seen".
He said rescuing people was the priority, while also providing shelter for those in need.
"We had a crisis within a crisis."
This article is republished under a community partnership agreement with RNZ.
Auckland flooding: Third death confirmed after body found in Remuera house https://t.co/DW8P4F1kMG

— RNZ News (@rnz_news) January 28, 2023