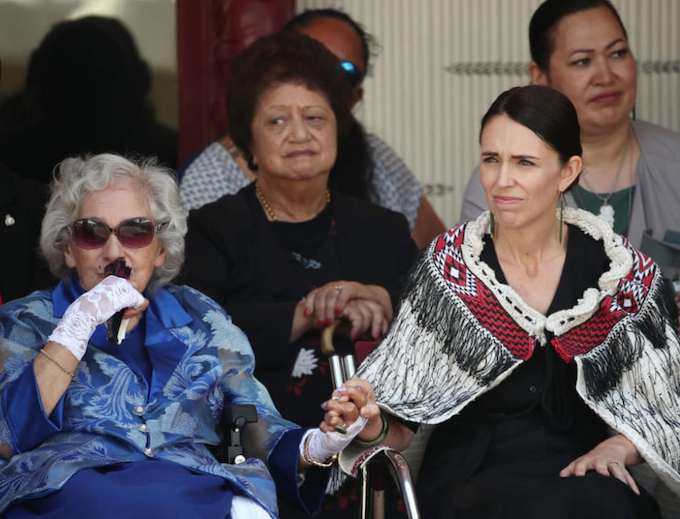 Northland kuia Titewhai Harawira has died in Avondale, aged 90.
Titewhai Harawira was a familiar face at Waitangi Day celebrations where she frequently accompanied prime ministers on to the local marae.
The proud matriarch of a close-knit family, she was heavily involved in Māori activism with strong convictions backed by a steely will.
"We've got radio today, we've got television today, we've got fishing rights today, we've got land rights today, we've got a Māori Party today. Why?
"Because a few of us have had the courage to get up there and push the boundaries for the last 50 years and I don't apologise for that to anybody then or now," she said in an interview with RNZ in 2009.
Her son, former MP Hone Harawira, said she would lay at her home in Avondale for a night before going to Hoani Waititi Marae in Henderson to lie in state. She would return to the north for burial.
Green Party co-leader Marama Davidson paid tribute to Titewhai Harawira's decades of "feisty, staunch activism" and passionate commitment to progressing te ao Māori aspirations.
A massive mihi
"Massive mihi to her lifelong dedication to advancing te ao Māori interests," she said.
Titewhai Te Hoia Hinewhare was born in 1932 in the Northland farming area of Whakapara and was raised by her maternal grandparents. After training as a nurse, she married John Harawira in 1952, settling in Avondale in Auckland. They had nine children and adopted another three.
The couple were active in local schools and were founding members of the pioneering Hoani Waititi urban marae in West Auckland. Titewhai Harawira was also active in the Māori Women's Welfare League, especially its campaign to improve Māori housing.
John Harawira died in 1977 and she brought up their extended family on her own.
She became a member of the protest group Ngā Tamatoa in the early 1970s and campaigned hard, often against bitter criticism, for the Māori language.
"We were determined to rescue our language because we felt and we believed, and we believe today, that a people without its language is a people that die," she told RNZ in 2009.
Titewhai Harawira was one of the leaders of the 1975 land hīkoi that marched from the Far North to Parliament.
Alienation of Māori land
Growing up during the Second World War, she had seen for herself the alienation of Māori land, and the seeds for her dedication to land rights were sown.
"I saw the farms that belonged to my aunties and my cousins, and people in and around our districts, saw those farms being taken over by Māori Affairs and given out to other people, so that when our people came back from the Second World War those farms were padlocked, and they were locked off those farms."
In later years, she was best known outside her own circles for her annual protests at Waitangi.
In 1998, she blocked then Labour Party leader Helen Clark from speaking on the marae, bringing the usually stoic Clark to tears. Harawira said she was demanding equal rights for Māori women who did not have speaking rights.
In 2000, some of elders attempted to prevent her and her companions from entering Te Tii marae because of the disruptions they caused, but the protest group eventually won the day.
Dame Nadia Glavish of Ngāti Whatua knew and worked closely with Titewhai Harawira.
"She was often called protester, but in the minds of us who walked with her it was more a protector of civil rights in this country.
Done 'with such dignity'
"She did it with such dignity even though she didn't bow to any pressure from anyone, government or otherwise. She was staunch and true to her cause. She was very proud to be Māori."
Former New Zealand First MP Shane Jones said she was a fierce, determined campaigner who had a few controversial stoushes, and was also a critic of her own people.
"A very powerful woman within Māoridom. Unlike other campaigners though, Titewhai was equally fierce in her criticism of Māori leadership in the community.
"She was no spectator. She constantly said to her own people if you want to boost your quality of life and get out of helplessness and hopelessness, don't be a spectator, or you'll get what you've got which is pretty near zero.
"E te ruahine, E te kai whakatumatuma. Ko rite te wā mou, hoki ai ki te kainga tūturu, e moe, e moe, e Titewhai. Te kai whakatumatuma o Ngāpuhi. Haere atu rā."
Passion and sincerity
Prime Minister Chris Hipkins said he did not know her well, but wanted to acknowledge her passing.
"I do want to extend my condolences and my aroha to her whānau. Look, there will be a lot of Kiwis who didn't agree with Titewhai Harawira but no one could doubt her passion, or her sincerity, and her commitment to Māori — particularly urban Māori.
"In recent years, I know that she's played a significant role in transforming how we commemorate Waitangi Day and she should be acknowledged for that as well.
"I didn't know her well and I won't claim to have, but I did have a few interactions with her … I just extend to them my condolences and my very best wishes."
When the Māori Party was formed in 2004, Titewhai Harawira wanted to stand as a candidate for it in the general election of the following year, but it was her son Hone who entered Parliament as a Māori Party MP.
This article is republished under a community partnership agreement with RNZ.