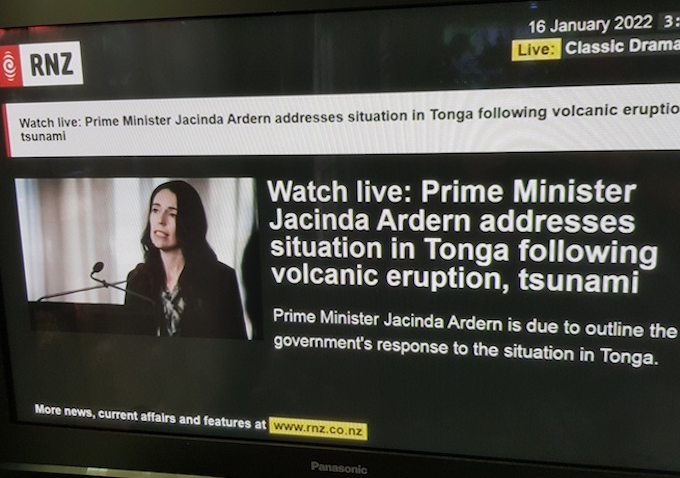 New Zealand Prime Minister Jacinda Ardern says there are no official reports of injuries or deaths in Tonga in the wake of the undersea volcano eruption and tsunami, but communication with the kingdom is very limited.
Communication with the island nation has been cut off since yesterday evening and members of the Tongan community in New Zealand are desperately awaiting news of their loved ones.
In a post on her Facebook page, Ardern said images of the underwater volcanic eruption on Hunga-Tonga-Hunga-Ha'apai were "hugely concerning".
She told the media briefing today communication as a result of the eruption had been difficult but the New Zealand Defence Force and the Ministry of Foreign Affairs were working to establish what was needed and how to help.
Ardern said the undersea cable had been impacted, probably because of power cuts, and authorities were trying urgently to restore communications.
Local mobile phones were not working, she said.
A significant clean up would be needed. Authorities were still trying to make communication with some of the smaller islands, she said.
NZ offers $500,000 donation
Ash had stopped falling in the capital Nuku'alofa, she said.
The Tongan government has accepted a New Zealand government offer for a reconnaissance flight, and an Orion will take off tomorrow morning provided conditions allow.
At present ash has been spotted at 63,000 feet.
The government is also announcing a $500,000 donation which is very much a "starting point", Ardern said.