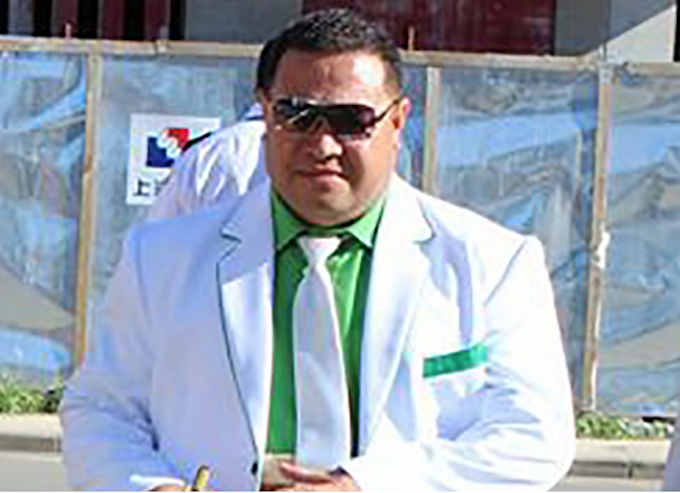 By Kalino Latu in Auckland
Tonga's new Minister of Agriculture, Food and Forests, Viliami Hingano, is currently in New Zealand for medical tests after the Vaiola hospital's computerised tomography (CT) scanner stopped working, a government spokesperson has told Kaniva News.
The former government approved his travel last year in his capacity as Ha'apai Governor, the spokesman said.
The minister's flight to New Zealand was repeatedly postponed by Tonga's current volcanic eruptions which started in December.
"It was important for him to be taken overseas and get his scan done so that his condition could be identified before he was given the right medical treatment," the spokesperson said in Tongan.
The spokesperson was responding after Kaniva News wanted to confirm that the minister was in Auckland for medical treatment.
Kaniva News reported this week that Hingano's family had sent him love and support after a photo of him and a cousin was shared on Facebook last week.
The family urged Hingano to be courageous and prayed that God would help him through his medical treatment in New Zealand.
The former governor of Ha'apai was elected MP for Ha'apai 12 on November 18, and appointed by Prime Minister Siaosi Sovaleni on December 29, before he left for Auckland.
Medical issues divide community
The Kaniva Tonga report earlier this week about Hingano has divided the Tongan online community.
Some people were surprised to find out that instead of the minister being expected to meet his staff as the first thing he should do after his appointment, he was sent overseas for medical assistance.
Some criticised the Prime Minister for appointing someone who appeared to be a burden on taxpayers.
Some were irked by the fact that the minister's travel and all his medical costs must be paid by the government because it was his ministerial entitlement.
Others believed it was time to review the overseas medical treatment policy.
Many suggested that all candidates who ran for Parliament must show evidence they were healthy and did not suffer from any chronic disease that would be a financial burden for the country.
Some raised the fact that the policy only applied to government senior officers, leaders and the royals. Commoners who become chronically ill can only be treated in Tonga with the limited medical resources and doctors available at the Vaiola hospital.
History of treatment
Most Tongan public servants, politicians and royals who have been sent overseas on medical grounds suffered from conditions that were serious and could not be treated in Tonga.
While many were fortunate to be cured in New Zealand or Australia and returned home, some did not.
Two recent former Deputy Prime Ministers, Lord Ma'afu and Sione Vuna Fā'otusia, were treated in New Zealand, but eventually died from their sicknesses.
A fierce online furore erupted in 2019 after the government hired an air ambulance which airlifted Lord Fusitu'a to a hospital in New Zealand.
At the time, those who opposed the overseas medical policy protested on Facebook, rejecting the payment of costs from taxpayer's money.
The king's noble was still in New Zealand and it appeared that he was still receiving medical assistance for his illness.
Former MPs' medical expenses
Former Prime Minister Lord Tu'ivakanō was regularly sent to New Zealand for checkups after he suffered a minor stroke while in New York attending the UN General Assembly in 2013.
His medical expenses and flights were paid from taxpayers' money.
The government also sent former Prime Minister Pōhiva Tu'ionetoa to Australia for medical treatment after having an injury while being an MP. He received spinal surgery at the St George Private Hospital in Sydney.
Kaniva News understands a former Prime Minister, who was wheelchair-bound, died after being sick and spending about a year or more in an Auckland hospital. While he was in New Zealand all his expenses, including the staff looking after him, were paid from taxpayers' money.
A former Minister of Police was flown to New Zealand on a medical flight while he was seriously ill, but died during the flight. All expenses were paid from the taxpayers' coffers.
Late Opposition Leader and Prime Minister 'Akilisi Pōhiva was also sent to Auckland for medical treatment during his tenure. He died in an Auckland hospital.
However, he paid for his travel and accommodation expenses in New Zealand with his own money.
Kalino Latu is editor of Kaniva News. Republished with permission as community partners.