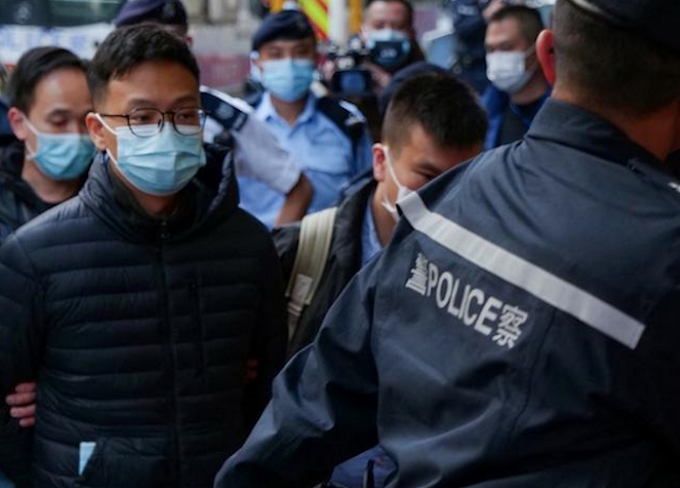 Pacific Media Watch newsdesk
Hong Kong independent media Stand News has announced it has shut down following the arrest last week of six current and former members of its team.
The Paris-based global media freedom watchdog Reporters Without Borders (RSF) has called for the release of all journalists detained and urges democracies to react and defend what is left of the free press in the territory.
On the morning of December 29, six current and former team members of Chinese-language news site Stand News were arrested by the police force's National Security Department on allegations of "conspiracy to publish seditious publications", a colonial-era crime that bears a maximum sentence of two years in prison.
The detainees are acting chief editor Patrick Lam Shiu-tung, former chief editor Chung Pui-kuen, and four former board members: Denise Ho Wan-see, Margaret Ng Ngoi-yee, Chow Tat-chi and Christine Fang Meng-sang.
Next day, December 30, the four board members — Denise Ho Wan-see, Margaret Ng Ngoi-yee, Chow Tat-chi and Christine Fang Meng-sang — were released on a bail, while chief editors Patrick Lam Shiu-tung and Chung Pui-kuen will stay in custody until the trial.
Simultaneously on the day of the arrests, a total of 200 police officers raided the Stand News office and searched the house of Stand News' deputy assignment editor, Ronson Chan Long-sing.
Chan, who is also the chair of Hong Kong Journalists Association (HKJA), was taken away and later released after questioning.
Defend 'what's left of free press'
"Exactly six months after the dismantling of the Next Digital group and its flagship newspaper Apple Daily, Hong Kong Chief Executive Carrie Lam once again shows her determination to terminate press freedom in the territory by eliminating Stand News in a similar fashion", said Cédric Alviani, RSF East Asia bureau head, who called for the release of all journalists and urges democracies "to act in line with their own values and obligations and defend what's left of the free press in Hong Kong before China's model of information control claims another victim".
Stand News, an independent, non-profit, news website in Chinese founded in 2014, provided in-depth coverage of all trials related to the National Security Law, and was a nominee for the 2021 RSF Press Freedom Awards.
In June, Chief Executive Lam also used the National Security Law as pretext to shut down Apple Daily, the territory's largest Chinese-language opposition newspaper, and to prosecute at least 12 journalists and press freedom defenders, 10 of whom are still detained.
In a report titled "The Great Leap Backwards of Journalism in China", published on 7 December 2021, Reporters Without Borders (RSF) revealed the system of censorship and information control established by the Chinese regime and the global threat it poses to press freedom and democracy.
Hong Kong, once a bastion of press freedom, has fallen from 18th place in 2002 to 80th place in the 2020 RSF World Press Freedom Index.
The People's Republic of China, for its part, has stagnated at 177th out of 180.
Republished with permission. Asia Pacific Report collaborates with Reporters Without Borders.