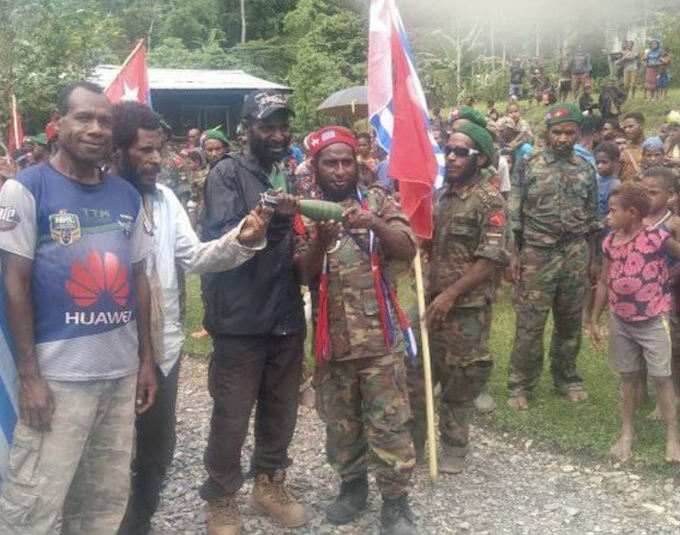 SPECIAL REPORT: By Johnny Blades, RNZ Pacific journalist
Armed conflict in West Papua continues to claim lives, displace tens of thousands of people and cause resentment at Indonesian rule.
But despite ongoing calls for help, neighbouring countries in the Pacific Islands region remain largely silent and ineffectual in their response.
This year, Indonesia's military has increased operations to hunt down and respond to attacks by pro-independence fighters with West Papua National Liberation Army (WPNLA) which considers Indonesia an occupying force in its homeland.
Since late 2018, several regencies in the Indonesian-ruled Papuan provinces have become mired in conflict, notably Nduga, Yahukimo, Intan Jaya, Puncak Jaya, Maybrat as well as Pegunungan Bintang regency on the international border with Papua New Guinea.
The ongoing cycle of violence has created a steady trickle of deaths on both sides, and also among the many villages caught in the middle.
Identifying the death toll is difficult, especially because Indonesian authorities restrict outside access to Papua.
However, research by the West Papua Council of Churches points to at least 400 deaths due to the conflict in the aforementioned regencies since December 2018, including people who have fled their villages to escape military operations and then died due to the unavailability of food and medicine.
'Some cross into PNG'
"We have received reports that at least 60,000 Papuan people from our congregations have currently evacuated to the surrounding districts, including some who have crossed into Papua New Guinea," says Reverend Socratez Sofyan Yoman, president of the Fellowship of Baptist Churches of West Papua.
The humanitarian crisis which Yoman described has spilled over into Papua New Guinea, bringing its own security and pandemic threats to PNG border communities like Tumolbil village in remote Telefomin district.
Reverend Yoman and others within the West Papua Council of Churches have made repeated calls for the government to pull back its forces.
They seek a circuit-breaker to end to the conflict in Papua which remains based on unresolved grievances over the way Indonesia took control in the 1960s, and the denial of a legitimate self-determination for West Papuans.
But it is not simply the war between Indonesia's military and the Liberation Army or OPM fighters that has created ongoing upheavals for Papuans.
This year has seen:
more arbitrary arrests and detention of Papuans for peaceful political expression;
treason charges for the same;
harassment of prominent human rights defenders;
more oil palm, mining and environmental degradation that threatens Papuans' access to their land and forest;
a move by Indonesian lawmakers to extend an unpopular Special Autonomy Law roundly rejected by Papuans; and
a terror plot by alleged Muslim extremists in Merauke Regency in Papua's south-east corner.
Not only the churches, but also Papuan customary representatives, civil society and the pro-independence movement have been calling for international help for many years, particularly for an intermediary to facilitate dialogue with Indonesia towards some sort of peaceful settlement.
Groups frustrated with Jakarta
The groups have expressed frustration about the way that Jakarta's defensiveness over West Papua's sovereignty leaves little room for solutions to end conflict in the New Guinea territory.
On the other hand, Indonesian government officials point towards various major infrastructure projects in Papua as a sign that President Joko Widodo's economic development campaign is creating improvements for local communities.
Despite the risks of exacerbating the spread of covid-19 in Papua, Indonesia recently held the National Games in Jayapura, with President Widodo presiding over the opening and closing of the event, presenting it as a showcase of unity and development in the eastern region.
"The president and vice-president of Indonesia while in Papua did not discuss the resolution of the protracted Papua conflict. They turned a blind eye and heart to the Papua confict," says Reverend Yoman.
Beyond the gloss of the Games, Papuans were still being taken in by authorities as treason suspects if they bore the colours of the banned Papuan Morning Star flag.
Regional response
At their last in-person summit before the pandemic, in 2019, Pacific Islands Forum leaders agreed to press Indonesia to allow the Office of the UN High Commissioner for Human Rights into Papua region in order for it to present them with an independent assessment of the rights situation in West Papua.
Advocating for the UN visit, as a group in the Forum, appears to be as far out on a limb that regional countries — including Australia and New Zealand — are prepared to go on West Papua.
However even before 2019, the UN High Commissioner for Human Rights office had already been trying for years to send a team to Papua, and found it difficult securing Indonesia's approval.
That the visit has still not happened since the Forum push indicates that West Papua remains off limits to the international community as far as Jakarta is concerned, no matter how much it points to the pandemic as being an obstacle.
The question of how the Pacific can address the problem of West Papua is also re-emerging at the sub-regional level within the Melanesian Spearhead Group whose full members are PNG, Fiji, Solomon Islands, Vanuatu and New Caledonia's Kanaks.
The United Liberation Movement for West Papua (ULMWP) is looking to unlock the voice of its people at the regional level by applying again for full membership in the MSG, after its previous application had "disappeared".
The ULMWP's representative in Vanuatu, Freddy Waromi, this month submitted the application at the MSG headquarters in Port Vila.
No voice at the table
The organisation already has observer status in the MSG, but as Waromi said, as observers they do not have a voice at the table.
"When we are with observer status, we always just observe in the MSG meeting, we cannot voice our voice out.
"But with the hope that we become a full member we can have a voice in MSG and even in Pacific Islands Forum and even other important international organisations."
Indonesia, which is an associate member of the MSG, opposes the ULMWP's claim to represent West Papuans.
"They're still encouraging them (the MSG) not to accept us," Waromi said of Jakarta.
He said the conflict had not abated since he fled from his homeland into PNG in 1979, but only worsened.
"Fighting is escalating now in the highlands region of West Papua – in Nduga, in Intan Jaya, in Wamena, in Paniai – all those places, fighting between Indonesian military and the National Liberation Army of West Papua has been escalating, it's very bad now."
Vanuatu consistently strong
Vanuatu is the only country in the Pacific Islands region whose government has consistently voiced strong support for the basic rights of West Papuans over the years. Other Melanesian countries have at times raised their voice, but the key neighbouring country of PNG has been largely silent.
The governor of PNG's National Capital District, Powes Parkop, this month in Parliament lambasted successive PNG governments for failing to develop a strong policy on West Papua.
He claimed that PNG's long silence on the conflict had been based on fear, and a "total capitulation to Indonesian aggression and illegal occupation".
"We have adopted a policy that is shameful and unethical," he said of PNG's "friends to all, enemies to none" stance.
"How do we sleep at night when the people on the other side are subject to so much violence, racism, deaths and destruction?
"When are we going to summon the courage to talk and speak? Why are we afraid of Indonesia?"
Parkop's questions also apply to the Pacific region, where Indonesia's diplomatic influence has grown in recent years, effectively quelling some of the support that the West Papua independence movement had enjoyed.
Time is running out for West Papuans who may soon be a minority in their own land if Indonesian transmigration is left unchecked.
Yet that doesn't mean the conflict will fade. Until core grievances are adequately addressed, conflict can be expected to deepen in West Papua.
This article is republished under a community partnership agreement with RNZ.