Human rights watchdog TAPOL has condemned the demand by Indonesian prosecutors seeking 17 and five years imprisonment for West Papuan activists Buchtar Tabuni and Irwanus Uropmabin.
On June 2, the Jayapura District Prosecutor's Office issued 33 pages containing charges against the defendant Irwanus Uropmabin.
In the document, the Public Prosecutor concluded that Irwanus Uropmabin was proven to have violated Article 106 in conjunction with Article 55 paragraph (1) of the Criminal Code, and stipulated a five-year prison sentence for the defendant.
READ MORE: Seven more people in Indonesia detained for 'treason'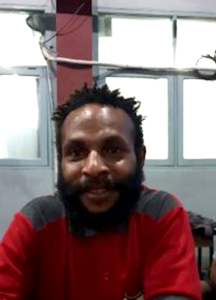 Irwanus is a student activist who was arrested on August 29, 2019, for participating in an anti-racism protest in West Papua in September last year.
In the demonstration, he was appointed as the security coordinator.
Papuans Behind Bars reported that Irwanus, along with six other political prisoners, were moved from Mako Brimob Jayapura to BalikPapan Class IIB East Kalimantan prison on October 4, 2019.
The transfer violated the Criminal Procedure Code.
Accused of 'being the brains'
On the same day, the Public Prosecutor also read out charges against Buchtar Tabuni, a leader of "National Parliament of West Papua" accused of being the brains behind the Papua Uprising of 2019.
Despite maintaining his innocence of involvement in organising the Uprising, Tabuni has been charged with Articles 106, 110, and 160 of the Criminal Code, including treason charges.
The District Prosecutor's office has demanded 17 years imprisonment for Buchtar Tabuni.
Tabuni is a prominent leader who has been repeatedly imprisoned for peaceful protests demanding independence for West Papua.
He has been repeatedly tortured by the Indonesian authorities during these imprisonments. This latest detention is his third.
"These sentences are excessive and at best an attempt to make examples out of West Papuan political activists who are simply trying to exercise their civil and political rights," said TAPOL in a statement.
"These rights are protected by international principles as well as Indonesia's national Constitution.
"West Papuans have been denouncing the injustice of these heavy sentences, as the racist perpetrators in Java who triggered the mass protests were either freed or only sentenced to 5, 7, and 10 months imprisonment."