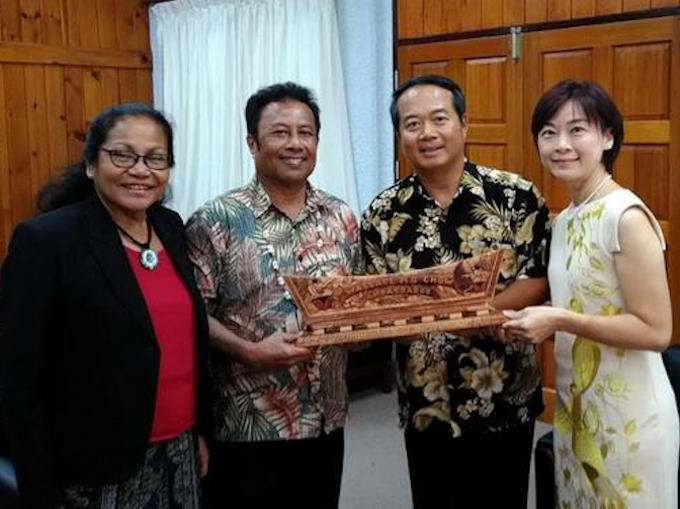 By Bernadette Carreon, RNZ Pacific Palau correspondent
Palau's President says the World Health Organisation's neglect of Taiwan has endangered, not only Taiwanese, but people everywhere.
In his state of the republic address this week, President Tommy Remengesau Jr thanked the Taiwan government for its support in preparation for addressing the threat of the covid-19 coronavirus pandemic
One of Taiwan's few diplomatic allies in the Pacific, Remengesau said Palau would continue to support Taiwan's efforts in international fora.
READ MORE: Al Jazeera coronavirus live updates – US death toll tops 65,000
Taiwan is excluded from the WHO, because of objections from China, which regards Taiwan as a breakaway province.
"The covid-19 pandemic has underscored the danger of Taiwan's unfair isolation from the international system. Neglect by the World Health Organisation, among others, has wrongfully endangered not only the people of Taiwan but those of all countries in this interconnected world," Remengesau said.
"We will continue to fight against this unfair exclusion."
Taiwan's effective response to Covid-19 had been seen as one of the world's success stories in combatting the coronavirus.
Under Chinese pressure
But despite the success, their involvement in international public health care efforts was still under pressure by China.
The Taiwan government poured medical supplies and grants to countries like Palau to help fight the coronavirus. Onsite testing is now possible in Palau due to the assistance of Taiwan through test kits, PCR machine and medical training.
Remengesau said his nation was grateful for its relationship with Taiwan.
"Taiwan is a strong and generous neighbor that has confirmed its position in the Pacific and therefore has gained the right to contribute as a member of the global community.
"Palau will continue to support Taiwan's efforts in the international fora and will work to nurture our friendship and improve our cooperation," he said.
There have been no confirmed cases of covid-19 in Palau and according to the Ministry of Health as of May 1, 313 testings had been conducted since mid-April and all had returned negative.
The ministry also announced while it continued to test essential services' workers in the community for covid-19, testing was also open to anyone in the community who had symptoms such as fever, cough, sore throat, runny nose, or any other influenza-like symptoms.
Testing is open until May 11.
Ramping up testing capability
Palau was also ramping up its testing capabilities as more testing kits were expected to arrive in Palau, including rapid testing kits.
With a population of almost 18,000, Health Minister Emais Roberts said Palau's capabilities to test were building.
"Somewhere along the line, we can test everybody," he said.
Palau's border contines to be closed to tourism until the end of May, it is, however, arranging a flight this month to allow stranded citizens and residents to return home.
The United Airlines flight, tentatively scheduled for May 21, will fly from Guam and will also facilitate the outbound travel of stranded tourists and foreign workers from Palau.
This article is republished by the Pacific Media Centre under a partnership agreement with RNZ.
If you have symptoms of the coronavirus, call the NZ Covid-19 Healthline on 0800 358 5453 (+64 9 358 5453 for international SIMs) or call your GP – don't show up at a medical centre.