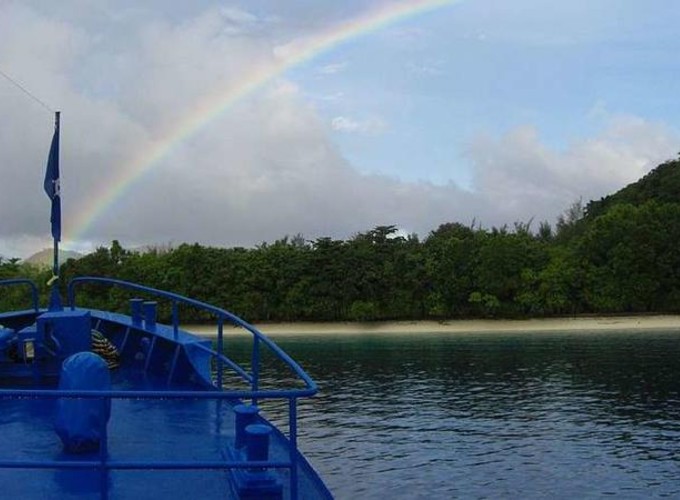 By RNZ Pacific
A Solomon Islands province has agreed to lease a large island to a Chinese developer to develop into a special economic zone, weeks after the country opened diplomatic ties with China.
But already cracks abound; there has been no official announcement and the provincial premier says the deal is on ice.
Experts say the arrangement in Central Province would give the developer and other Chinese firms a strategic inlet into Solomon Islands, which until last month was one of Taiwan's dwindling allies in the Pacific.
READ MORE: PNG and Solomons governments call for changes to forestry
The government traded Taiwan for China in a move that it said would promise more development for the nation.
The Central Province agreement, signed 22 September, would give Beijing-based Sam Group an exclusive five-year development lease for Tulagi island and its surrounding islands, according to a copy which was shared on Facebook on Friday by a Solomon Islands youth group which is pro-Taiwan.
RNZ Pacific has verified the leaked copy's authenticity with two sources who are familiar with the agreement's contents.
Central Province premier, Stanley Manetiva, confirmed he had signed the "strategic cooperation agreement" in Honiara with representatives of Sam Group, but said it was not legally binding and the company would have to comply with local laws and respect landowner rights on Tulagi.
"To be honest here, leasing Tulagi will not be possible," he said in an interview. "Nothing will eventuate on the agreement."
A phone number for Sam Group's office in Beijing listed on its website was disconnected on Friday. Another company listed as a party to the lease agreement, Xiamen International Trade Group, could not be reached for comment.
According to a statement posted to Sam Group's website, a Solomon Islands delegation visited its headquarters in August.
The two parties "hoped to carry out comprehensive cooperation in energy, chemical industry, investment, trade and other fields in addition to existing cooperation," the statement said. It was unclear whether the visiting delegation was from Central Province.
"We want the investors to come to our province," said Manetiva, adding the diplomatic switch had opened investment opportunities for Solomon Islands. "But we must be mindful, mindful in a sense that we must see that the people are our priority."
Not everyone's convinced the deal with Sam Group is as non-binding as Manetiva claims.
Solomon Islands' deputy opposition leader, Peter Kenilorea Junior, was worried the lease would still go ahead.
"It raises a lot of concern for me, I didn't see any protection, or at least any obligation in the agreement that I saw that also safeguards the interests of Central islands province peoples and the resources."
As part of the Tulagi lease, Sam Group would be able to survey the island for oil and gas developments, despite what Kenilorea Junior described as a sizeable anti-mining movement on the island.
Central province, which hosted the former capital under British-ruled Solomon Islands, has a relatively small population of around 26,000 people, but covers a vast area of more than 600km2 of mostly-ocean. The province is also located close to the Guadalcanal, where the current capital Honiara is.
Kenilorea Junior said the province's strategically central location might have made it a target for a Chinese developer like Sam Group.
"This may be a means to sort of piggybacking other companies into the Solomons," said Anna Powles, a senior lecturer in security studies at Massey University in New Zealand.
She questioned whether one of Sam Group's subsidiaries, China Jing An, was privately-owned because it was previously part of China's Public Security Ministry.
"My sense from other research and other companies similarly, is that there are still very strong ties there."
Still, local businesses on Tulagi have welcomed what they say is sorely-needed development on the island.
"We don't have any banks and services here is quite low, and having investors to come and improve the place would be really great," said Teika Dennis, the owner of the Vanita Motel and Restaurant.
This article is published under the Pacific Media Centre's content partnership with Radio New Zealand