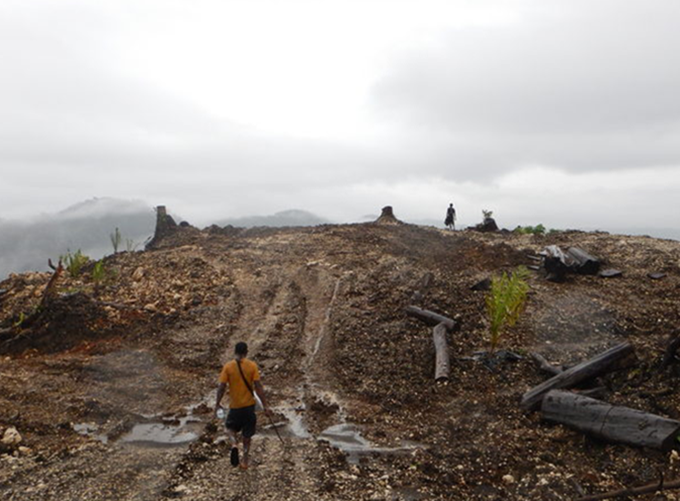 Pacific Media Centre Newsdesk
Both the Solomon Islands and Papua New Guinea governments have signalled changes to make their forestry industries more sustainable.
According to Loop PNG, the Papua New Guinea government will be putting a stop to the issuance of all new logging licences to foreign companies.
Forestry Minister Solan Mirisim who resigned as Defence Minister under the O'Neill led government, said licenses will only be issued to landowning companies.
READ MORE: Tarcisius Kabutaulaka: Logging bonanza hasn't helped Solomon Islands landowners
"The minister is charged in ensuring that no more new licence is given to foreign companies, all existing players in the country go down to downstream processing by 2020," he said.
He said that more needs to be done to ensure the forestry industry is sustainable.
"But what we can absolutely do about logging is this: We can replace the tree that we cut. But we are not doing that. You go anywhere in the logging area in PNG, are they doing reforestation? No. But the authority that's supposed to do this is slack."
Illegal deforestation
Deforestation is rife in Papua New Guinea, with 640,000 hectares of forest felled in the last three years. Much of the logging is illegal, prompting conflict between offending companies and indigenous landowners.
According to The Guardian, millions of tonnes of illegally felled logs are sent to China and PNG is China's single largest supplier of tropical logs.
Illegal logging activity is often enabled through corruption typical of the previous government under Peter O'Neill.
Prime Minister James Marape has since pledged to stamp out such corruption and work more in the interests of indigenous landowners.
The Solomon Islands government has also discussed changes to the logging industry, with Prime Minister Manasseh Sogavare looking to halt all round log exports by 2023, reports SIBC news.
Sogavare will encourage a shift from round log exporting to downstream processing with more factories set up to process the timber onshore.
Twenty times the sustainable rate
According to environmental news website Mongabay, logging companies are clearing Solomon Islands forests at nearly 20 times the sustainable rate.
While Sogavare's announcement appears to be a step in the right direction, there are concerns that any changes will be hindered by a majority of pro-logging MPs, many of whom are being paid by foreign logging companies.