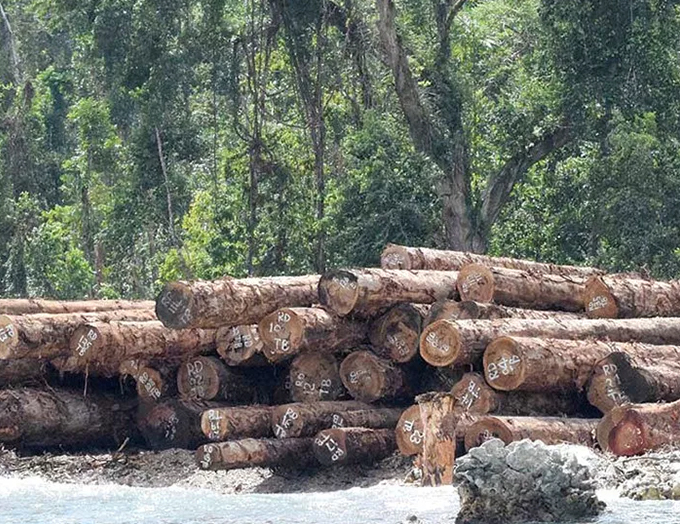 COMMENTARY: By Tarcisius Kabutaulaka
Since the late 1980s, the logging industry has dominated the Solomon Islands economy.
For nearly three decades, it has accounted for about 50 percent of the country's foreign exchange revenue. In 2018, round logs account for 70 percent of Solomon Islands total exports.
Eighty percent of that is exported to China.
READ MORE: Logging ravaging the Solomon Islands' forests
In terms of log production by province in 2018, Western Province accounted for the largest share (32 percent), followed by Isabel Province (17 percent), Choiseul (16 percent), Guadalcanal (11 percent), Makira (9 percent), Malaita (6 percent), RenBell (4 percent) and Temotu (4 percent).
Billions of dollars worth of logs have been harvested and exported from Solomon Islands.
However, we have not seen positive impacts on the livelihoods of our people and the economy of our country. In fact, the positive impacts have been negligible, and in many cases the industry has had adverse social, political and economic impacts on our societies and nation.
Undisputed owners
Why is it that indigenous Solomon Islanders are not benefiting as they should from a resource in which they are the undisputed owners?
Perhaps there are many reasons for this. But one structural issue is the formula used to distribute revenues from logging: 60 percent to logging companies, 25 percent to the state and 15 percent to landowners.
So when landowners fight among themselves over logging revenues, they are effectively fighting over only 15 percent of the value of their forestry resource.
Small share
In many cases, the share paid to landowners is much smaller because logging companies deduct the expenses incurred during the timber rights hearing process.
Also, the 15 percent is shared between the licensee/middleman and the rest of the landowning groups. If there are disputes and lawyers are involved, then that is another layer of expenses that landowners carry.
Consequently, based on this state-imposed formula, resource owners are robbed right from the beginning.
Dr Tarcisius Tara Kabutaulaka is an associate professor and director of the University of Hawai'i's Center for Pacific Islands Studies. He is a political economist who has written extensively on development and governance issues in the Pacific Islands, with a focus on Solomon Islands. This brief comment was originally on his Facebook page and is republished by the Pacific Media Centre with permission.