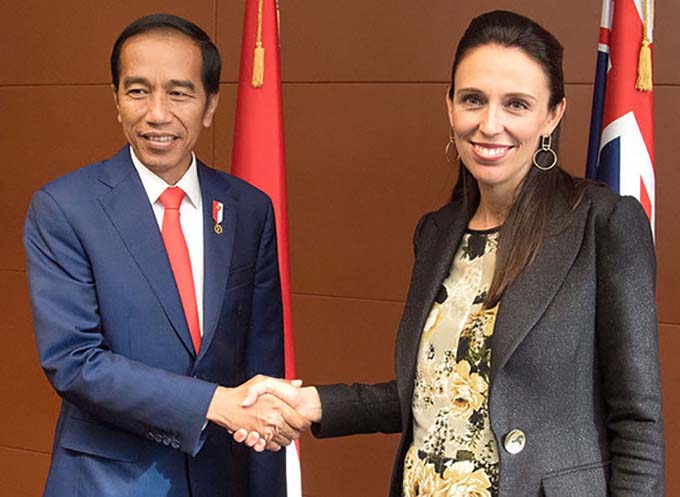 Evening Report editorial by Selwyn Manning
It is clear and proper that New Zealand's Ministry of Foreign Affairs and Trade is closely monitoring a concerning situation of deteriorating violence in West Papua.
It is also apparent that groups who have long monitored the security situation in West Papua have contacted the New Zealand Prime Minister, Jacinda Ardern, urging her to speak up against the violence and human rights abuses in the Indonesian-controlled state. I believe the Prime Minister should. Here's why.
When considering the history of West Papua – the increasing violence; the enduring wish of its peoples for self-determination; the arrests on treason charges of those who seek a pathway toward independence; the intensifying concerns of its immediate neighbours Papua New Guinea, Vanuatu, and the states that make up the Melanesian Spearhead Group – it would be a brave but significant step should New Zealand also add its considerable weight behind a call for a multilateral-led resolution to the West Papua conflict.
LISTEN: Selwyn Manning talks West Papua on RNZ's The Panel
New Zealand's reputation as an honest-broker on global human rights issues, and the Prime Minister's significant reputation for being able to identify common-ground, and, map out a way forward for parties with disparate interests, would provide significant leverage and resolution to a conflict that is at risk of becoming a human catastrophe.
Also, New Zealand is right smack in the middle of the Asia Pacific region. Despite Australia's historical interests in Melanesia, this is New Zealand's patch as well. Human rights abuses, conflicts, disorder within our region will impact on New Zealand in the future as they have in the past.
Take the Solomon Islands conflict in the early 2000s. The Melanesian state was descending into civil war. In 2003, I was in Townsville, at an Australian airforce base when the leaders of Melanesian and Polynesian states (including New Zealand's Helen Clark and Australia's John Howard) signed a non-aggression pact and sent armed forces to the Solomon Islands to help reestablish peace and progress.
The operation became known as RAMSI (Regional Assistance Mission to the Solomon Islands).
Under RAMSI, once order was restored in the Solomon Islands, the countries of this region helped the once chaotic state to establish good governance and government operations, and helped to establish a thriving civil society.
The merits of RAMSI can be seen today in how the Solomon Islands now functions as a progressing state and valuable member of the Pacific Islands Forum.
Learning from East Timor
Regarding West Papua, New Zealand, and indeed the other nations of the region, ought not to permit a repeat of the violence that took hold of East Timor in 1999.
For years those advocating self-determination in East Timor were persecuted and killed by forces and militia loyal to Indonesia's interests. In 1999 the crisis descended into massacre. In the end, it was estimated over 100,000 people were butchered in an unnecessary and preventable street-conflict.
At the time in 1999, New Zealand was hosting APEC (Asia Pacific Economic Co-Operation) leader's summit. It was the end of the National Party's run of government and Jenny Shipley was the Prime Minister. The government was determined to keep East Timor and its troubles off the APEC agenda. It refused to allow the massacre to be discussed at formal APEC meetings, that is, until the United States' then president Bill Clinton and Japan's then Prime Minister Keizō Obuchi demanded that a special meeting to discuss a multilateral response to the East Timor crisis be held.
While thousands of people were being massacred on the streets of East Timor's capital, Dili, the leaders of APEC's nations forged a consensus that became a pathway to peace.
Pressure from world leaders
Obuchi's message to his Indonesian counterpart Habibie was as follows: "East Timor remains in a very difficult situation. But Japan has a good relationship with Indonesia. And Japan will continue to encourage Indonesia to take measures to bring East Timor back to a state of peace."
He went further with diplo-speak akin to: "We are your friend Habibie, you know we are your friend. Afterall we provide you with $2 billion US in humanitarian aid [60 percent of the annual total]. We do not want to take that away from you, to do so will cause hardship throughout Asia, and only bring retaliatory consequences to all. So allow the international peacekeepers in to help you bring about peace. To do so is not an embarrassment. It is recognising the gesture of a friend. And to do so will prevent Japan from having to withdraw its aid to the people of Indonesia." (ref. Scoop, Selwyn Manning, 1999)
The gesture was significant and began a process that led to East Timor becoming the Democratic Republic of Timor-Leste – a self-determining independent state.
I argue here, that there is no need for Asia Pacific's leaders to sit back and dispassionately observe a disturbing escalation of violence in West Papua.
Timor-Leste's experience, as does RAMSI's – the Regional Assistance Mission to the Solomon Islands – provide examples of how leaders of a region, who have the willpower, can and do bring warring parties back from the brink of atrocity.
Jacinda Ardern has, for good reasons, obvious diplomatic credentials. She is seen as an honest broker on the world stage. A new generation leader. She is reacquainting New Zealand to a foreign policy that we were once proud of as an independent Pacific Island state. The realignment is something to celebrate. With regard to West Papua, there is an opportunity to use it to do good. The people there are being persecuted and killed for their ethnicity and for their political views.
It need not be so.