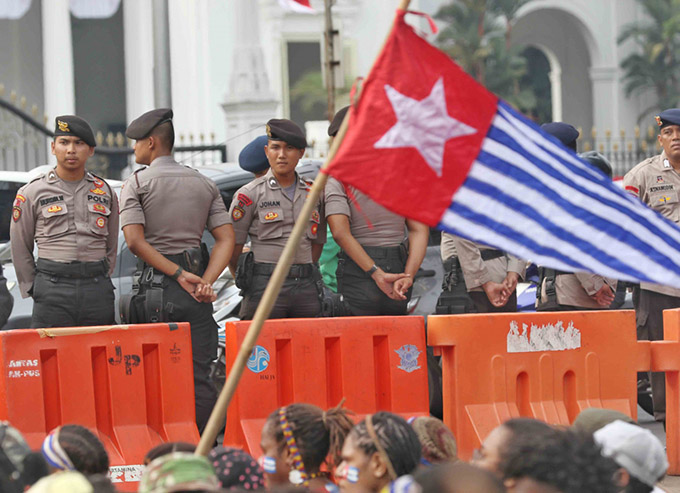 Pacific Media Watch Newsdesk
Papuan demands for a referendum on self-determination have erupted more strongly amid fears of civilian casualties in the Melanesian provinces of Papua and West Papua.
A government-imposed internet blackout is in place following a two-week wave of protests triggered by racial abuse against Papuan students in East Java, reports The Jakarta Post.
Thousands have been taking part in rallies across the West Papuan region as well as in some Javanese cities with protesters setting several buildings ablaze in the Papuan port capital of Jayapura.
READ MORE: Other Asia Pacific Report coverage on the West Papuan uprising
Thousands of Papuans occupy governor's office after rioting
MULTIMEDIA: Papuan resistance against Jakarta grows
President Joko Widodo appealed for calm and West Papuan leaders, Benny Wenda, called for United Nations intervention to avoid a "bloodbath" by security forces, in reference to the 1991 Santa Cruz massacre in Timor-Leste when more than 250 mourners at a funeral were shot dead by Indonesian troops.
President Joko Widodo told news media he had ordered "firm action against anarchist and racist actions", while pledging further development for the Papuans.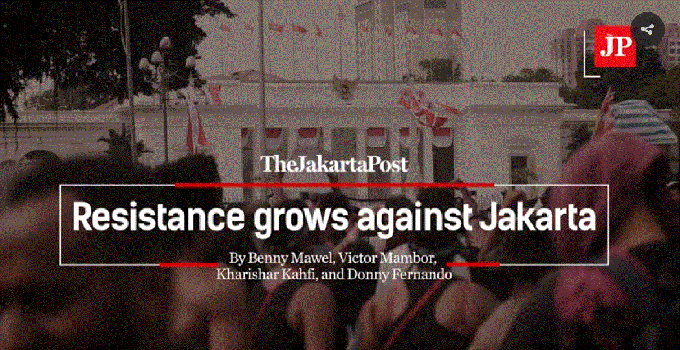 In a rare event, hundreds of emboldened Papuan students took to the streets in Jakarta on Wednesday, marching from the Army headquarters to the State Palace while carrying banned Bintang Kejora (Morning Star) flags, a symbol of the Papuan independence movement.
"The students and the people of Papua have agreed to call for a referendum," protest coordinator Ambrosius said during the rally.
When they reached the front of the State Palace, protesters burned tyres and danced traditional Papuan dances while chanting.
The crowd dispersed peacefully at around 5:30 pm.
Demands spreading
Johnny Fernando of The Jakarta Post reports that the demands by Papuans for a referendum on self-determination have been spreading, amid reports of civilian fatalities in Papua.
In addition to a referendum, the protesters have also called for the governors of Papua and West Papua to facilitate a return of Papuan students back to their provinces.
The students also demanded that the Information and Communications Ministry lift the government-imposed internet blackout that has been in place in the country's easternmost provinces since last week.
The protests have come amid reports that civilians had been shot by security forces during an antiracism rally in Deiyai regency, Papua. Eyewitnesses said that six protesters were feared dead and at least three others were injured during the incident.
Authorities have confirmed that one soldier died and at least two policemen were injured in the incident, but have yet to confirm civilian casualties.
Pressure on Pacific leaders
RNZ Pacific's Jamie Tahana, who covered the recent Pacific Islands Forum in Tuvalu, reports that Pacific leaders have conceded that, to date, their stance on West Papua has achieved little.
"The last 10 days have seen some of the largest public mobilisations in Indonesia's easternmost regions for years, with tens of thousands taking to the streets across Papua and West Papua provinces," he reports.
Dozens have been arrested and there has been rioting in some areas, with the Parliament building in Manokwari razed.
More than 1000 police and military personnel have been deployed to bolster an already significant military presence in the region.