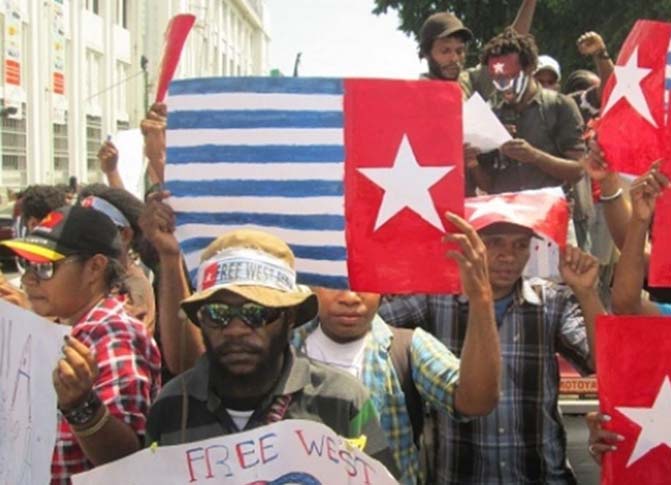 By Domingos Gomes in Dili
Timor-Leste national police (PNTL) have arrested 46 students at a West Papua independence solidarity protest in Dili, amid accusations the group failed to get permission to hold their demonstration in public.
The Dili protest, which moved from the Government Palace to the Indonesian Embassy in Farol last Thursday afternoon, was part of an international West Papua solidarity protests that have swept across across Indonesia and West Papua over the past two weeks.
The protesters are calling for independence from Indonesia for the people of West Papua.
READ MORE: East Timor-style referendum possible for Papua, says Jakarta Post editor
Police made the arrests for failing to have permission to hold the protest, obstructing traffic and breaches of the peace.
Those arrested were from the Progressive Student Movement (KEP), including 39 men and seven women.
A spokesperson for KEP, Adriano da Costa, said they made the demonstration to show that Timorese youth were in solidarity with the people of West Papua.
Costa said it was important West Papuans knew that Timor-Leste stood with them in their struggle for independence, as the people of Papua had done for Timor-Leste's own fight to be a sovereign nation.
Police told the Independente that people have a "right to express themselves" but they must get permission from the police to hold demonstrations in public.
"As long as they meet all these requirements, PNTL is ready to carry out security, but because KEP did not fulfil this requirement the PNTL is boycotting their activities," Armando Monteiro, the Commander of National Police in Dili, said.
Monteiro confirmed that protest organisers had met with PNTL and submitted a letter of request to conduct the protest, but that their demand had been rejected for "legal" reasons.
He said submissions to hold public protests must be made at least five days before the proposed day of action.
Domingos Gomes is a reporter with the Independente newspaper in Dili.