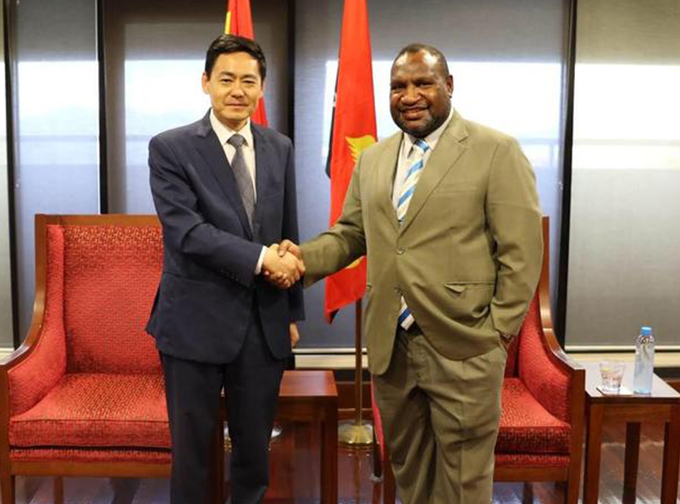 By RNZ Pacific
Papua New Guinea's Prime Minister has asked China to enter into a free trade agreement with his country, and for in help restructuring his government's debt.
PNG's requests came as James Marape met with China's Ambassador, Xue Bing, in Port Moresby. While the debt re-financing would first require consultations and collateral negotiations, PNG is pushing hard for a free trade agreement in the hope it could be signed on an upcoming visit to Beijing by Marape.
The Prime Minister suggested that if China opens up free trade with Pacific Island countries like his, it will help build thriving economic corridors in the region.
READ MORE: Chinese influence in the Pacific prompts high-level meetings
The new PNG leader is seeking to elevate the two countries' development cooperation, and boost Chinese investment in his country.
Marape also requested China's assistance in re-financing PNG's US$7.7-billion debt.
Both the Bank of PNG and China's People's Bank are expected to consult with Papua New Guinea's Department of Treasury over the re-financing.
Marape's discussions with China's ambassador also focussed on the upcoming 3rd China-Pacific Islands countries Economic Cooperation Forum to be held in Samoa in October, and the forthcoming Pacific Islands Forum meeting in Tuvalu, this month.
"I also suggested for Chinese investment in the agriculture and fisheries sector, and in particularly establishing down-streaming processing plants for products in forestry, fisheries, mining and petroleum, and general food production and supply in PNG," Marape said.
Ambassador Bing briefed Marape on China's investments in PNG, the main two being the Ramu Nickel Project and the Porgera Gold Mine Project which Chinese companies are involved in.
In the case of the Ramu mine, the project is in the process of being extended.
Marape and Ambassador Bing also exchanged views on global food security and discussed views on entering into an agricultural cooperation arrangement which would supply the Chinese market with PNG organic food and vegetables, as well as a fisheries agreement for Chinese investors to build fisheries processing plants in PNG.
Ambassador Bing extended an invitation for Marape to visit China, with a proposed official trip expected to feature signing of Memorandums of Understanding and other technical agreements.
"These will include developments in the field of air services, tourism, mining and petroleum, electricity, construction of roads, ports, airstrips, technical and vocational education schools, and the Chinese language curriculum to be introduced in schools, and more importantly encouraging business investments from China," Marape said.
This article is published under the Pacific Media Centre's content partnership with Radio New Zealand