Pacific Media Watch Newsdesk
Concern over China's growing influence in the Pacific has featured prominently in recent high-level meetings, announcements and in news media.
China was top of the agenda in an historic White House meeting between President Trump and the leaders of the Pacific's Freely Associated States last week, reports RNZ Pacific.
While it was billed as an opportunity for the Pacific leaders to voice their concerns about climate change, the meeting instead "focused on security cooperation".
READ MORE: China promotes 'green' belt and road, but pressured over coal investments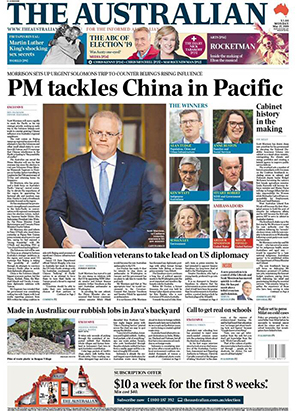 "A joint-statement released later made no specific mention of climate change, a key issue for Pacific Island states," reports RNZ.
This contradicted earlier statements by US government officials who told journalists in a background brief that China would not feature highly in the talks between the leaders.
"I don't think the frame through which the United States views the Pacific region is really about countering any particular nation," said a senior official who declined to be named.
Shared security concerns
He said the talks would instead focus on addressing shared security concerns including illegal fishing and transnational trafficking and crime.
While climate change was not specifically mentioned in the brief, he said the US administration recognises increasingly severe weather patterns in the Pacific.
"Certainly there's a recognition in this administration of increasingly violent weather events that are taking place and having a particularly tough effect on our friends in the Freely Associated States, because of sea levels and erosion.
"That is something I'm sure that the President will be interested in hearing about."
Potential hostilities
Earlier this month, President of Palau Tommy Remengesua wrote an opinion article warning that China's increasing influence in Micronesia could result in "hostilities".
"But it is in the Western Pacific, where China has been constructing military bases and wooing new allies with multibillion-dollar projects, that hostilities would likely erupt if a miscalculation ever turned a trade war into a shooting war."
He said Palau was a reliable US ally, but the island's airports and maritime ports would need to be modernised to support US military operations and counter Chinese expansionism.
"For over 75 years, Palauans and Americans have worked together, and some have made the ultimate sacrifice to ensure peace, prosperity and stability in the Western Pacific and around the world."
"But the world today isn't like what it was back then, and the time has come for our alliance to adapt."
Chinese influence is also attracting the attention of leaders further south.
Chinese interference
Australian Prime Minister Scott Morrison is planning a visit to the Solomon Islands after his re-election in response to Chinese interference in the region, reports The Australian.
The story which was quoted in the Solomon Times said that the visit comes amid "rising regional tensions over China's efforts to persuade Pacific nations to cut their ties with Taiwan and warnings from the US that the situation could lead to conflict."
Solomon Islands is Taiwan's largest ally in the Pacific and one of 17 countries that recognises Taiwan's sovereignty.
Taiwan provides Solomon Islands with many millions of dollars in aid every year.
The Solomon Islands Prime Minister Manasseh Sogavare is under pressure from his own ministers to sever ties with Taiwan in favour of China, RNZ reported last week.
"MPs within the government from Malaita and Guadalcanal are giving the Prime Minister six months to make the switch, or he will face a motion of no confidence."
However, other Pacific allies declared their support for Taiwan at a World Health Organisation meeting Tuvalu last week.
"The chief executive of Tuvalu's health ministry, Karlos Lee Moresi, said Taiwan has helped Tuvalu achieve universal health coverage," reports RNZ.