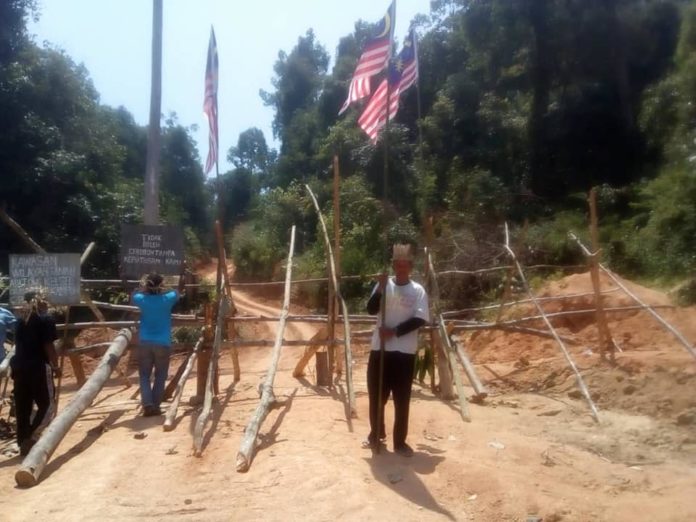 Pacific Media Watch Newsdesk
A journalist has been taken in for police questioning while documenting the land struggles of Temiar Orang Asli, an indigenous community in Kampung Sungai Papan, Malaysia, reports the Malay Mail.
Alexandra Radu from Romania said she was taken to the Gerik district police station yesterday morning after talking to the indigenous villagers about the blockade they had set up to prevent loggers from felling trees on their customary land.
"First the police told me that they are arresting me, but later they said that they only took me to the police station for documentation purposes," she said.
READ MORE: Precarious politics pose threats to world's three biggest rainforests
"I'm still here at the police station," she told Malay Mail when contacted yesterday.
A journalist for Japanese news organisation The Diplomat, Radu said she went to Temiar village on her own and not at the invitation of anyone.
"I went there to cover the life of the Orang Asli there and their blockade issue," she said.
According to online news site Malaysiakini, loggers and forestry officials destroyed the blockade yesterday which was blocking access to 42 hectares of Orang Asli customary land.
Speaking about the incident, the Organisation for the Preservation of Natural Heritage Malaysia (Peka Malaysia) said: "We regret that the state authorities and loggers are adamant and continuously encroaching upon their (Temiar) customary lands, despite numerous police reports and complaints being lodged with the relevant authorities and ongoing investigations.
"We hope there should not be any attempt to curb any media's right of information and the public's right to know any matters pertaining to Orang Asli in this regard."
Alexandra Radu has since been released. Police have told media that she was not arrested, only brought in to record her statement as a witness to the demolition of the blockade.
While the local government approved logging in the area last year, it has been met with dogged resistance with three Orang Asli villages arrested in mid-July for impeding logging activity.
The Orang Asli are the indigenous people and the oldest inhabitants of peninsula Malaysia and have a powerful connection with the land.
According to Al Jazeera, much of their customary land and its biodiversity is being lost to palm oil plantations which are expanding rapidly throughout Malaysia.