By Tulia Thompson
A minister of a Pacific church in Auckland has spoken out against rugby star Israel Folau's homophobic attack.
Samoan Minister Apelu Tielu from the Pacific Island Presbyterian Church has criticised Folau's misuse of the Bible, saying Folau has used the Bible "as an excuse".
Folau has defended his homophobic stance despite being fired by Rugby Australia after an independent panel found his social media posts were a "high level breach" of professional player conduct.
READ MORE: Israel Folau launches fresh attack on gay and transgender people
Folau posted a "warning" to his 313,000 Instagram followers which said "homosexuals" should repent or "hell awaits you," and quoted Bible verses.
Reverend Apelu Tielu disagreed that Folau was merely stating his religious beliefs, saying that the Bible has historically been misused to justify acts of hate, including apartheid and slavery.
Instead, Rev Tielu says that people need to understand the context that the Bible was written in, and that it is better to treat it as metaphoric rather than literal.
Rev Tielu posted on facebook about Folau and has written an E-tangata article saying that Christianity is about "love, not judgment".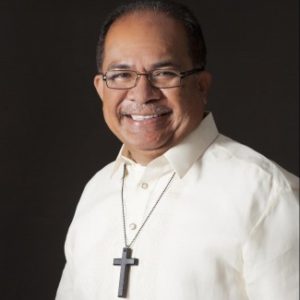 Rev Tielu's faith has grown through the coming out of his pansexual daughter Amy, who he has described previously as "a blessing".
Amy Tielu, 33, a Filipino-Samoan business analyst in Canberra, told her parents about her attraction to both men and women when she was 16, and is outspoken about being a queer Christian.
"It's not "God loves you in spite of this" it's "God loves you including this part.""
While Folau has been fired by Rugby Australia, Amy Tielu would like to see reparations to the LGBTQI community for the harm done.
"I would like the $4 million from his contract invested into scholarships or something for LGBT rugby players."
Amy Tielu hopes that Folau would reflect on his homophobic actions and "open his heart and mind to consider maybe God is trying to communicate something to him through these people he might have assumed are his enemies".
While the Tielu family is Samoan, and Folau is Tongan, other Pacific people are also distancing themselves from Folau's extreme views.
Leilani Tamu, a New Zealand-based Pacific social commentator of Tongan, Samoan and German descent, says her reaction to Folau's social media post was "distress and upset for all the people I know his comments would have hurt directly."
While Christian faith is central to Tamu's identity, as it is for Folau, she says that there is a spectrum of views within Pacific communities.
Tamu believes Folau is misguided, saying, "Jesus never turned anyone away".
Tulia Thompson is of Fijian, Tongan and Pakeha descent and is based in Aotearoa New Zealand. She has a PhD in sociology and is currently completing a Postgraduate Diploma in Journalism at AUT.