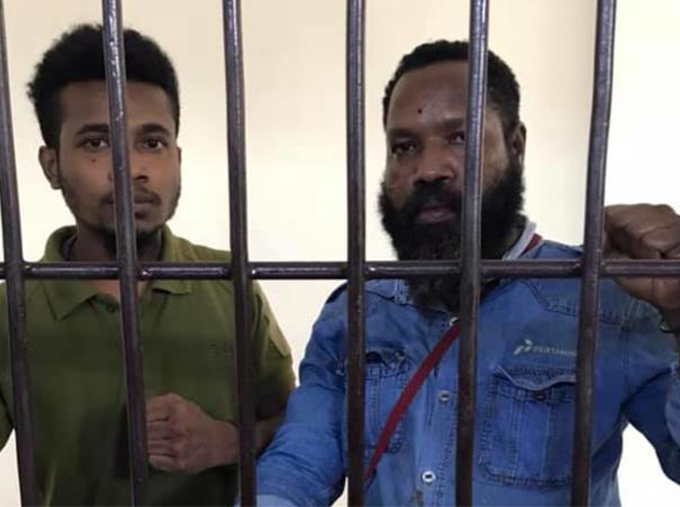 By RNZ Pacific 
Two West Papuans accused of "rebellion" have been sentenced to more than a year in an Indonesian prison.
Yakonias Womsiwor and Erichzon Mandobar were detained in September when authorities raided the office of a Papuan independence group.
According to their lawyer, Veronica Koman, a judge in the Timika district court sentenced Womsiwor to one year and six months jail on Tuesday.
READ MORE: West Papuan speaker 'silenced' when trying to raise UN agenda issue
His co-defendant got one year and three months in prison.
Both were sentenced under a criminal law for coercion and rebellion.
Veronica Koman said she was considering an appeal against the judgement.
During their arrests in Timika, the defendants were shot several times and denied medical attention until rights groups brought attention to their case.
Both men wounded
Womsiwor was shot six times in total, while Mandobar was shot once, according to Amnesty International and Koman.
"They were shot without warning as the law required," Koman said, adding that they were later allowed to be treated by their families.
Their arrests were part of a raid on the Timika secretariat of the West Papua National Committee (KNPB), which was later seized by police.
Earlier in the trial, police and prosecutors had claimed the men were found with ammunition and guns, which the defendants denied was theirs, according to Koman.
She said that during the trial two police officers, including a deputy police chief, called as witnesses testified that military personnel had placed the ammunition and guns at the KNPB offices.
Koman added that the sentencing yesterday did not give proper consideration to statements made by the defence.
The jail terms come as several cases are being brought against West Papuan activists and rebels in the West Papua region.
Last week a Polish tourist was jailed for five years for plotting to sell arms to West Papuan rebels.
This article is published under the Pacific Media Centre's content partnership with Radio New Zealand.