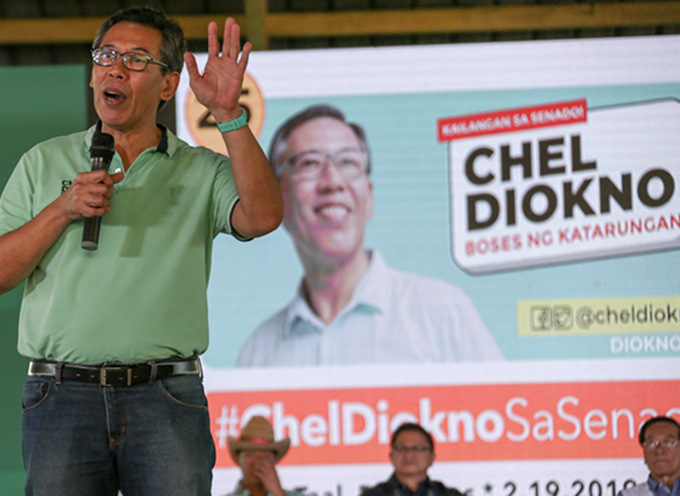 By Lian Buan in Manila
Opposition senatorial canidate Chel Diokno, a veteran human rights lawyer, won the endorsement of former justices of the Philippines Supreme Court and ombudsmen as the campaign draws to a close.
Former SC justices Antonio Nachura and Roberto Abad and former ombudsmen Conchita Carpio Morales and Simeon Marcelo threw their support behind Diokno in a news conference yesterday for Monday's general election.
Nachura said Diokno showed promise for his work as a member of the prosecution of the Joseph Estrada impeachment trial more than a decade ago.
READ MORE: Rene Saguisag endorses Diokno, the 'voice of human rights' in Senate
"Noong nalaman kong kakandidato si Chel (When I found out Chel would run for senator), I enlisted myself as a volunteer for him because of his passion for justice and his passion for quality education," Nachura said.
Nachura, who served as SC justice under the Gloria Arroyo administration, said: "Pagkakataon ko nang makapagbayad kahit kaunti para sa nagawa ni Chel sa ating lahat." (This is my chance to repay him for what he has done for all of us.)
Diokno heads the 45-year-old Free Legal Assistance Group, which has handled clients such as relatives of those who died in the 1987 MV Doña Paz tragedy, witnesses in the kidnapping case against retired army major-general Jovito Palparan, and most recently, victims of drug war killings, indigenous groups against martial law in Mindanao, fishermen against commercial fishing, and fishermen against the neglect of the West Philippine Sea.
Diokno scored small wins recently, when the SC compelled the Duterte administration to publicly release tens of thousands of drug war documents, and when the High Court issued a writ of kalikasan for the fishermen who complained against government neglect in the Spratly territories.
Founding dean
Diokno is also the founding dean of the De La Salle University College of Law.
"He worked with me, when the Supreme Court invited him to help us in the revision of the rules of civil procedure and he did fine work in his assignment," said Abad, whose first work out of law school was for Diokno's father, former senator Jose W. Diokno.
"We have a wonderful guy here, who can really serve our country more than many of our candidates who may be popular because they're exposed to media," said Abad.
Marcelo told reporters he has long promised not to be involved in politics after his term as ombudsman, but that supporting Diokno in his campaign was a chance he could not pass up.
"Kilalang-kilala siya bilang abogado na tagapagtanggol ng karapatang pantao at ating mga naaaping kababayan, mga mahihirap," said Marcelo.
(He is well known as a lawyer who defends human rights of poor and oppressed Filipinos.)
Morales, who has been shying away from political statements since retiring as ombudsman in 2018, did not speak but told reporters she supports Diokno.
Uphill battle
Before the press conference, Morales said that while Diokno's candidacy may be an uphill battle, "everything is possible".
Far Eastern University Institute of Law dean Mel Sta Maria and Lyceum of the Philippines University College of Law dean Sol Mawis also endorsed Diokno.
"Mahal ni Chel higit sa lahat ang batas. Pero mas may mahal pa siya sa batas – ang katarungan," Mawis said. (Chel loves the law most of all. But more than the law, what he loves is justice.)
Asia Pacific Report republishes Rappler articles in collaboration.