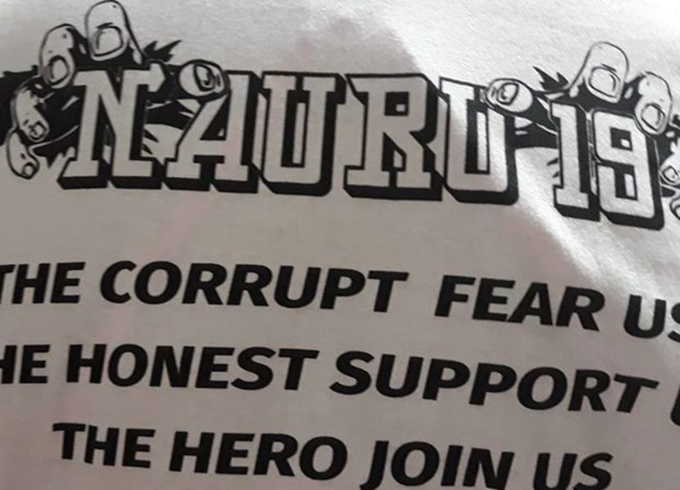 By RNZ Pacific
A Nauru opposition MP has been jailed on an assault charge.
Jaden Dogireiy has been given a sentence of 13 months, which means he will be automatically disqualified from Parliament.
Dogireiy's sentence comes after he had been acquitted in the Magistrate's Court but the state appealed and Supreme Court judge Mohammed Khan convicted and sentenced him on Saturday.
This as several former opposition MPs and other Nauruans, dubbed the Nauru 19, await the decision of the Court of Appeal, which is hearing state's application to overturn a permanent stay on charges emanating from an anti-government protest outside Parliament nearly four years ago.
In September last year an Australian judge, Geof Muecke, brought in by the Nauru government to hear the drawn out case, effectively acquitted the 19, calling out the government for abuse of court process.
He condemned the delays as unfair, said the government had thwarted the Nauru 19's legal representation, and was persecuting the defendants.
But the Nauru government appealed with the newly set up Court of Appeal hearing arguments last week.
Reserved decision
Their decision has been reserved.
The Court of Appeal was established in secret last year in what the Nauru 19 says was an attempt to deny them access to the Australian High Court – a move they had sought successfully on a number of occasions, because of their concerns about the lack of independence within the Nauru judiciary.
In 2014, the the Chief Justice, Geof Eames, was blocked from re-entering the country and the resident magistrate, Peter Law, deported after they had ordered stays on other deportation orders issued by Justice Minister David Adeang.
The move created an international furore with the New Zealand government suspending aid assistance to the Nauru judiciary and the Pacific chief justices body raising concerns about the rule of law.
More recently, the New Zealand Law Society has spoken out, saying a raft of new laws passed in 2018 limit freedoms and erode civil rights.
The convenor of the Law Society, Austin Forbes, QC, says a particular concern was the Administration of Justice Act, which redefines contempt of court as anything that scandalises a judge, a court or the justice system in any manner whatsoever.
Hearing the current appeal are Tonga's Michael Scott, Papua New Guinea's Nicholas Kirrowom and Solomon Islands' Sir Albert Palmer.
This article is published under the Pacific Media Centre's content partnership with Radio New Zealand.