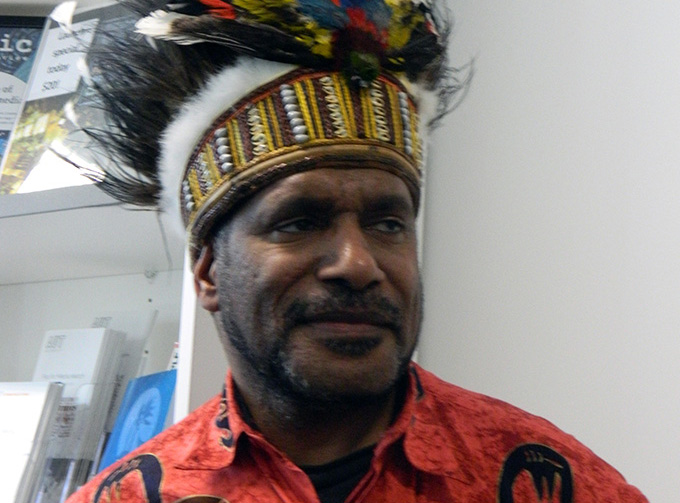 By Tom Stayner of SBS News

A West Papuan independence leader and Nobel peace prize nominee is calling for a mass boycott of Indonesia's upcoming elections to bring attention to their independence struggle.
Benny Wenda was granted political asylum in the United Kingdom 16 years ago – following an escape from custody while on trial in West Papua.
In exile, he has led the campaign for the self-determination that his countrymen say they have lacked since Indonesia gained internationally-recognised control of West Papua through a disputed referendum vote 50 years ago.
WATCH VIDEO: SBS Skype interview with Benny Wenda
Wenda told SBS News from London, that he is calling for a mass boycott of Indonesia's upcoming elections to again bring attention to a decades long independence struggle.
"This is a critical time for our people because the election for a colonial occupied force is not legitimate," Wenda said.
"From now on we will not take part in Indonesian elections because we are not Indonesian."
"We are Melanesian. We are the Pacific islanders… People are fed up – enough is enough,"he said.
Indonesian elections
On April 17 – more than 190 million registered Indonesian voters will go to the polls for presidential and general elections.
Favoured incumbent President Joko Widodo is being challenged by former military general Prabowo Subianto.
Subianto is also the son-in-law of long-time former President Suharto – who led Indonesia for three decades.
Southeast Asia analyst Damien Kingsbury said both candidates have adopted "nationalist" sentiments in their campaign so far.
"There are both populists that are operating on a populist agenda," he said.
"Jokowi is trying to broaden his appeal out to the middle ground of Indonesian voters. Prabowo is appealing much more to a base."
Professor Kingsbury said despite making up some recent ground, Subianto is well behind President Widodo in most polling.
"The polls have been showing that Jokowi is running at around the 50 percent mark in terms of popularity," he said.
"Prabowo is running at around the 30 percent mark with a significant number of undecided voters."
This is the second time the two rivals will face off after President Widodo defeated Subianto in elections five years ago.
According to the West Papua National Committee, hundreds of thousands of West Papuans boycotted those elections in 2014.
West Papuan militants back boycott
Indonesia's control of West Papua has long been a flash-point for ongoing low level conflict between Indonesian forces and Indigenous Papuan militants.
Indonesia recently deployed 600 soldiers to protect the building of a major highway in West Papua, in response to the killings of 19 Indonesian road workers. The road project was a signature promise that President Joko Widodo made to the region.
In following clashes with militants, Indonesia's military said three of its soldiers were killed along with up to 10 rebels.
But despite this escalation, Professor Kingsbury said West Papua had essentially been a "non-issue" in the election campaign.
"Both candidates believe that that Melanesian West Papuans should accept they are Indonesian." he said.
"[They believe] the separatist movement [in West Papua] is essentially a criminal organisation."
In a statement seen by SBS News, the West Papua Liberation Army (TPNPB-OPM) declared its intention to support the push to boycott 2019 elections.
"The TPNPB-OPM never recognised the existence of the Colonial Government of the Republic of Indonesia in Papuans Customary Lands," the statement reads.