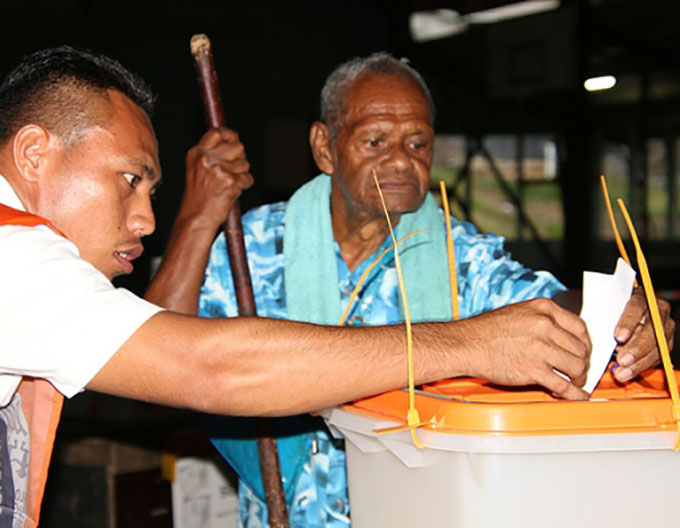 By Ofani Eremae in Honiara
Former Solomon Islands prime minister Manasseh Sogavare has been returned for his sixth term in Parliament after retaining his East Choiseul seat in Wednesday's general election as incumbents dominated the early declared provisional results.
Sogavare, the outgoing finance minister, was one of seven MPs in the last House who has secured his seat so far, according to early results.
The other six are:
Dr Culwick Togamana – Maringe/Kokota
Charles Sigoto – Rannogga/Simbo
Dr Tautai Angikimua – Rennell & Bellona
Samuel Manetoali – Go/Bugotu
William Marau – Ulawa/Ugi
Nestor Giro – Central Makira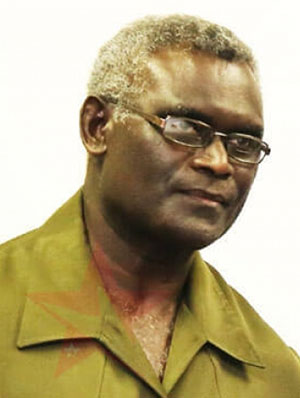 Early results released also saw three newcomers.
They are former Clerk to Parliament Clezy Rore, former Ministry of Finance permanent secretary Harry Kuma and Robertson Galokale, a former senior public servant working in the Treasury department.
Rore has caused the biggest election upset so far when he unseated Milner Tozaka, the outgoing Foreign Affairs minister, who lost the seat after serving two terms.
Tozaka is the parliamentary wing leader of the People's Alliance Party in the last House.
Sandakabatu out
In North West Choiseul, Kuma polled 2948 votes to knock out Connelly Sandakabatu, who had held the seat for the last two terms.
In South Choiseul, Galokale ousted former MP Elijah Doromuala who came sixth.
Galokale is the managing director of the Takamako Holdings group of companies. He polled 999 votes, just ahead of Leokana Tozen with 965 votes.
Sogavare retained his seat after polling 1860 votes, more than a thousand ballots from the runner up Ezra Kukuti, who polled 755 votes.
In Ulawa/Ugi, Marau, the youngest MP in the last House, secured his second term by a landslide.
He received 1778 votes ahead of the former Archbishop of the Anglican Church of Melanesia, George Takeli, who polled only 476.
Fewer votes
The other six candidates who contested the seat collected an even fewer number of votes.
In Central Makira Giro polled 3803 votes, ahead of Usumae Peter Thompson with 1,419.
In Gao/ Bugotu, Manetoali's return for his fourth term in Parliament was a surprise.
Late last year, police arrested and charged Manetoali for alleged conversion of constituency funds.
The charge was a huge set-back to Mantoali's election campaign and many doubted his chances of returning for another parliamentary term.
But on Wednesday, the people of Gao/Bugotu handed Mantoalia a resounding victory and a fourth term in Parliament.
He polled 2457 votes ahead of his runner up Adrian Toni, who received 1102 ballots.
Counting is continuing.
Ofani Eremae is a Solomon Star reporter.