Julian Pettifer introduces his 1979 BBC series Diamonds in the Sky. Video: Julian Pettifer
ANALYSIS: By Dr Philip Cass
There was an American entrepreneur who claimed he was being pursued by the CIA and an Australian bookmaker whose racing career could best be described as colourful.
There were Libyans with money to spare and political ambitions in the Pacific and Russians after oil and a fishing port in Tonga.
The Australian and New Zealand governments were concerned. The US embassy in Fiji appears to have been slightly frantic.
READ MORE: Quixotic ruler who brought education, health and agricutural reform to his South Pacific kingdom
It was 1977 and as a major diplomatic crisis brewed in Nuku'alofa, in the midst of it all was King Taufa'ahau Tupou IV, who was convinced that the way to prosperity for the kingdom was to build an airport that could handle 747 jumbo jets.
The king believed his dreams would be financed by the Bank of the South Pacific, a financial institution whose existence he had allowed and placed in the hands of John Meier.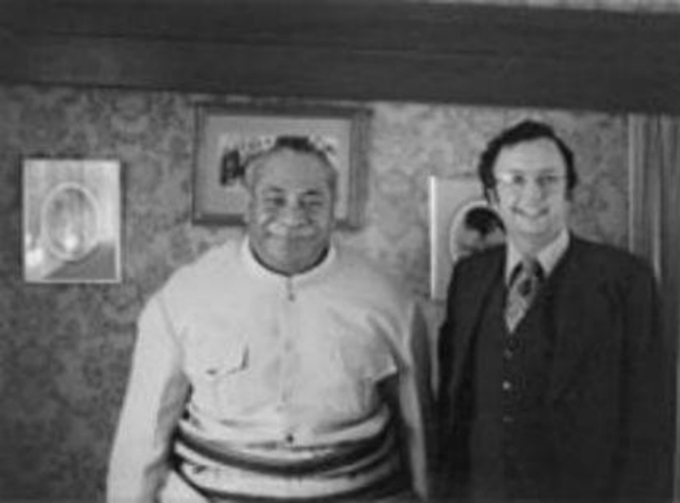 Meier, an American financial adventurer, once claimed he had once seen the body of his former boss, reclusive billionaire Howard Hughes, in a deep freeze in Florida.
According to a US diplomatic cable released by Wikileaks, other ambitious projects being floated included establishing a Tongan flag airline, establishing aircraft and boat construction industries, funding a pharmaceutical distribution centre and building an industrial park.
Diamonds in the Sky
Speaking to BBC reporter Julian Pettifer for the 1979 television series Diamonds in the Sky, the king said he planned to build a 3657.6 metre long runway that would turn Tonga into "an anchored aircraft carrier in mid-Pacific."
At the time of the interview Fuaʻamotu International Airport, which started life as an American bomber base during the Second World War, could only take twin engine BAC1-11s (then operated by Air Pacific) and Boeing 737s.
He wanted to upgrade it to be able to take 747 jumbo jets which then stopped at Nadi in Fiji on their way to New Zealand and Australia. He believed that if the runway was available then the bigger airlines would want to use it.
He told Pettifer a dozen airlines had told him that they wanted to put Tonga on their flight schedules.
Pettifer was sceptical, noting the enormous cost of building and maintaining such a facility and remarking that "unfortunately, His Majesty may be unaware that in a world where there are not too many kings remaining, there may be a tendency among commoners to tell royalty what they imagine royalty want to hear."
Regardless, the king saw a future in which Tonga was the base for an electronics industry, with parts being flown in and assembled by cheap labour. Looking at neighbouring Fiji, he also saw it as a boost for tourism in the kingdom.
All of this would, he believed, be funded by the BSP. Perhaps unknown to the king, Meier was wanted on charges of swindling his employer out of tens of millions of dollars and had fled to Canada before arriving on Tonga.
US government radar
Meier had persuaded the king to establish the Bank of the South Pacific, whose operations would be essentially controlled by Meier rather than the king or the Tongan government. Alongside Meier was a group of people with no apparent banking experience, but all of whom were on the US government's radar.
Bridging the gap between the Americans and the king was Tonga's honorary consul general in Sydney and Melbourne, Australian bookie and racehorse trainer Bill Waterhouse. Waterhouse would gain as much notoriety as wins on the track during his career.
Meier's presence in the kingdom seriously alarmed Washington, Wellington and Canberra, which kept a close eye on proceedings. On September 16, 1977, the US Embassy in Suva sent a cable US diplomatic cable outlining its concerns.
It described the BSP as a merchant bank, but quite how it would work remained the subject of "considerable puzzlement".
"Main office will apparently remain Vancouver, with Nuku'alofa branch handling offshore activities free of taxes according to charter approved by Privy Council," the cable said.
The funding for the bank would come from Canadian, Japanese and Arab sources. The bank would be permitted to receive a cut of a head tax on passengers arriving in Tonga and would be involved in buying new aircraft.
The US report said the king had his heart set on an airport extension and had dismissed what it called "the fishy odour" surrounding the operation. It described King Tupou as "bright and determined," although it said he was often "heedless of practical considerations".
No truth to rumour
It said he had "smilingly" told the Commander-in-Chief of the US Navy's Pacific Headquarters in Hawai'i that there was no truth to a rumour that the Soviet Union had approached him about building the airport, claiming the money would come from Canada.
The diplomatic cable warned that if the BSP collapsed the king could well turn to the Russians to improve the airport in return for fishing bases in Tonga. In 1976, Soviet oil companies had expressed interest in prospecting in Tonga and there were negotiations between Tonga and the Soviet Union about a loan to develop Tonga's airport and make it 11,000 feet long, more than the required length for a fully laden 747.
In March 1978, King Tupou IV visited Libya to talk with President Muammar Gaddafi about a loan for the airport project.
Meier later claimed that in 1978 he had been offered financial assistance with the runway project by a Soviet Embassy official in Wellington. He also claimed that on the flight back to Nuku'alofa he had been warned by an American naval officer that Washington would block the runway project.
What also exercised Washington was that the king had given Meier a diplomatic passport, making him immune to extradition or arrest. Meier was wanted not just for allegedly defrauding the Hughes Corporation, but also for his alleged role in a murder.
Meier would always maintain his innocence and would claim that he had long been targeted by the US government for his role in the Watergate scandal that brought down President Nixon.
Meier travelled extensively trying to sell bonds in the BSP, but as any substantial investment failed to materialise, there was intense pressure to find a way to have him arrested and brought back to the US.
Difficult to judge
How much of this was due to a desire by US authorities to bring Meier to justice and how much was an attempt to make sure the Russians and Libyans did not gain a foothold in the South Pacific is difficult to judge 40 years after the events.
Unfortunately, much of what has been written about John Meier since then often reads more like a conspiracy theory than sound analysis.
In July 1978 Meier was arrested in Sydney on an extradition warrant from the United States alleging fraud and tax evasion. Using his diplomatic passport, which had been endorsed by the Australian High Commission in Suva, Meier walked free, but the US, Australia and New Zealand were anxious to bring the matter to a head
Later that month the Australian High Commissioner in Suva and senior US diplomatic staff flew to Nuku'alofa to meet with King Tupou IV.
Before the meeting, the Tongan Supreme Court had ruled that the charter ordinance on which the BSP was based had been issued extra-constitutionally and would have to be resubmitted to Parliament in statutory bill form.
According to a US diplomatic report on the meeting between the Western diplomats and the king released by Wikileaks, the US Embassy in Wellington reported that the charter of the Bank of the South Pacific would not now be submitted to Parliament for confirmation.
The diplomatic cable said Meier's associated with Tonga would be ended and he would have to deal with criminal charges as a private citizen. Police were ordered to confiscate his diplomatic passport if he returned to Tonga.
'Not disturbed'
"The king indicated that he was not disturbed by the actions of the government of Australia or the US government," the cable said.
The report continued: "The king's face-saving comment at the end of the audience was that the Tongan government had used Meier as far as it could and that at least he had interested 'others' who were now willing to take up the airport project.
"The 'others' are apparently Japanese or Arab commercial interests, both of which the king has mentioned recently. We remain sceptics about the possibility of anyone picking up the project at this stage."
Back in Australia, Meier sent his family to Canada and then – according to one highly colourful account – used a fake New Zealand passport supplied by the Cuban embassy to flee Australia. He reached Canada later that year, but was arrested and extradited to the United States where he was tried and convicted the following year of obstruction of justice.
He later claimed that while in jail the CIA tried to force him to sign a confession that he had deposited large sums of money from Libyan ruler Muammar Gaddafi into King Tupou's bank account.
Soon after his release from prison he was indicted for murder, but after a tortuous legal process the case collapsed and he was freed after agreeing to a lesser charge, but did not serve any jail time.
Timelines:
Born in 1933, John Meier is believed to be still alive.
King Tupou IV died in September 2006.
Libyan dictator Muammar Gaddafi was overthrown and murdered during a coup on October 20, 2011.
The Russians never did explore for oil or establish a fishing port in Tonga.
The Soviet Union disintegrated in 1991.
Today, the United States, Australia and New Zealand worry about Chinese expansion in the Pacific instead.
Fuaʻamotu airport's main tarmac runway is now 2681 metres long, just enough for a 747. However, no jumbo jet has ever landed or taken off there because the runway is not strong enough to support its weight.
Dr Philip Cass is a media academic, associate editor of Pacific Journalism Review and editorial adviser to Kaniva Tonga. This article was first published by Kaniva Tonga which has a content sharing arrangement with the Pacific Media Centre.
References: