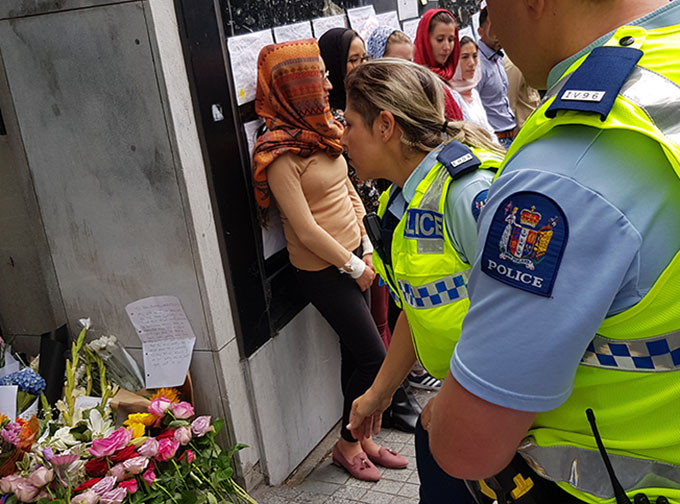 By RNZ News
New Zealand today observed the Muslim call to prayer and two minutes of silence in Christchurch and across the country, one week after terror attacks that killed 50 people at two mosques in the city.
More than two dozen of the victims were buried in a mass ceremony this afternoon.
The number of burials at the 4pm funeral could be as high as 28, reports RNZ News.
The call to prayer, the adhan, is an Islamic practice that is observed by devotees five times a day. The call to prayer took place about 1.30pm, lasting about one minute and 40 seconds. A two-minute silence followed, marking the time that the massacre began at 1.32pm.
The prayer and silence were attended by Prime Minister Jacinda Ardern, Muslim community leaders, local iwi and international dignitaries, among others.
Hundreds of students and staff at Auckland University of Technology paid tribute to the victims of the Christchurch mosque massacre a week ago today at the campus masjid. Video: Cafe Pacific
It was followed by two minutes of silence, which was observed nationally.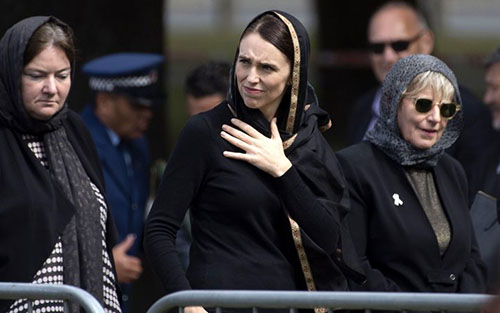 Al Noor Mosque imam Gamal Fouda, who survived Friday's attacks, then spoke, telling the crowd New Zealand was unbreakable.
"We are broken-hearted, but we are not broken. We are alive, we are together, we are determined to not let anyone divide us," he said.
Auckland University of Technology, the country's second largest university, marked the mourning day with several events across its three campuses across the city.
Students and staff mounted a "protective" vigil at the campus Madjid and placed flowers at the entrance.
This article is republished under the Pacific Media Centre's content partnership with Radio New Zealand. The photos are by the Pacific Media Centre.