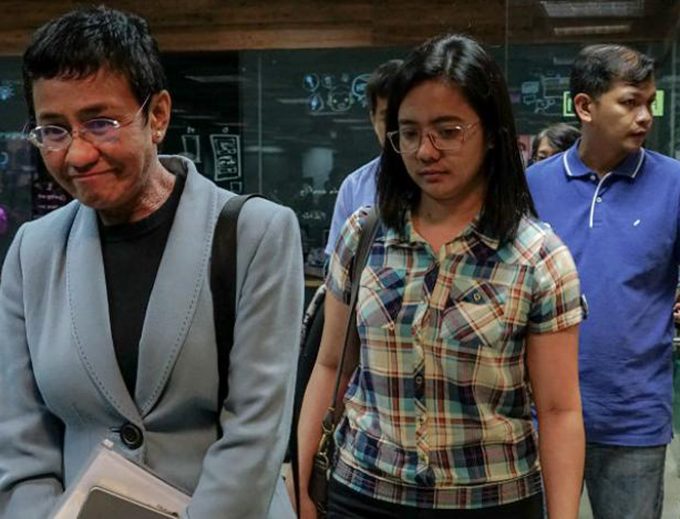 Pacific Media Watch Newsdesk
The Paris-based global media advocacy group Reporters Without Borders (RSF) has condemned yesterday's arrest of Maria Ressa, editor of the independent Manila-based news website Rappler, on a "cyber libel" (defamation) charge.
It is referring the Philippine government's "repeated persecution" of this journalist and her website to the United Nations Secretary-General.
Chosen as one of Time Magazine's "persons of the year" in 2018, Ressa was spending last night in detention after being arrested at Rappler headquarters by agents from the National Bureau of Investigation (NBI) armed with an arrest warrant issued on the basis of online defamation case filed last week.
READ MORE: Rappler CEO Maria Ressa arrested for 'cyber libel'
"It seems that her arrest was left until the end of the afternoon with the deliberate aim of keeping her in detention overnight," RSF said.
According to her colleagues, the judge said there was no time to handle the bail request until today.
The Philippine Justice Department filed the case against Ressa and Rappler on February 6 over an article published in 2012 about alleged ties between a Philippine businessmen and the then president of the country's Supreme Court.
The charges, which carry a possible 12-year jail sentence, were brought under a cyber crime law that had not yet taken effect when the article was published.
'No place in prison'
"Maria Ressa has no place in prison and the judicial persecution to which she is being subjected is becoming increasingly unacceptable," RSF secretary-general Christophe Deloire said.
"Digging up an old case that was dismissed in February 2018 is absolutely absurd and confirms that this is not justice but an attempt to gag a media outlet and editor recognised internationally for their professionalism and independence."
Deloire added: "We are asking the UN secretary-general to intercede as quickly as possible to end this harassment. At the same time, we ask the court that handles this case to dismiss all the charges against Maria Ressa and Rappler."
This is the sixth charge to be brought against Ressa in more than a year of systematic judicial harassment.
Four charges of tax evasion and failing to file income tax returns were brought against Rappler and Ressa last November. A fifth charge, described by RSF as "completely spurious", was brought in December.
Ressa is one of the 25 members of an international panel created at RSF's initiative last year that drafted an international Declaration on Information and Democracy.
On the basis of the declaration, the leaders of 12 democratic countries launched a political process on November 11 aimed at providing democratic guarantees for news and information and freedom of opinion.
Media freedom awards
As well as being one of Time Magazine's "persons of the year," Ressa also received the 2018 Press Freedom Award from the Committee to Protect Journalists and has become a symbol of the Philippine media's fight against intimidation by President Rodrigo Duterte.
The Philippines is ranked 133rd out of 180 countries in RSF's 2018 World Press Freedom Index.
Press freedom groups around the world, including New Zealand's Pacific Media Centre/Pacific Media Watch, condemned the persecution, with Pen America saying the arrest showed the Duterte government was "desperate" to silence critics.
"Maria Ressa, along with her colleagues at Rappler, has fearlessly exposed the abuses of the Duterte government, even in the face of relentless harassment," Pen said.
"By arresting her on these absurd and baseless charges, concerning an article published 7 years ago and prior to the enactment of the very law under which she is being charged, the Philippines government has exposed how desperate it is to silence critics and stamp out independent journalism in the country.
"We call on the Duterte government to immediately drop these charges and release Ressa. Investigative journalism is not a crime."
#Journalismisnotacrime