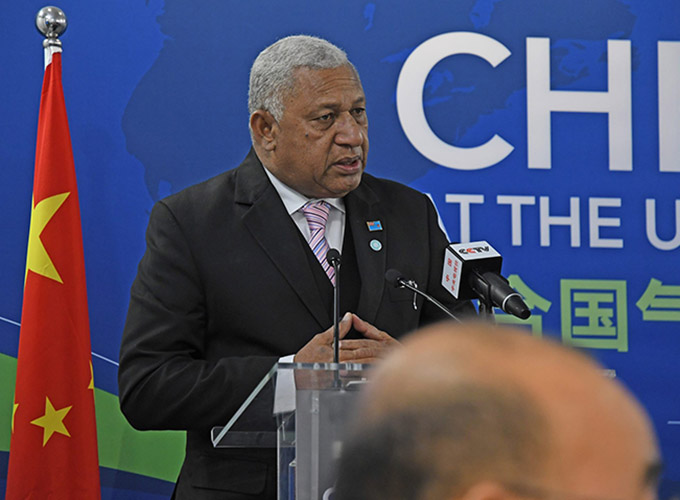 Pacific Media Centre Newsdesk
Talks to draft the Paris Agreement rulebook remained deadlocked today on traditionally tough issues.
Emerging economies – China, India, Brazil and South Africa – stood their ground on financial aid and the division of rich and poor countries.
Others vented their frustration. The UN chief flew back to Poland with a message that failure would be "immoral" and "suicidal", Fiji's prime minister said it would be "craven, irresponsible and selfish", and a coalition of countries born in the Paris talks in 2015 was resurrected, with a call to arms.
READ MORE: Make the 'clean energy' switch, urges Fiji's Bainimarama
Businesses are outpacing national governments in rolling out zero emission vehicles across Europe, North America and New Zealand, says The Climate Group as another five leading companies have joined its corporate leadership initiative EV100 and pledged to electrify their fleets by 2030.
A push has emerged in Poland for countries to step up their climate pledges and Megan Darby of Climate Home News interviews one of the scientists whose work made the world realise it is on the brink.
With new draft rules written by the Polish Cop24 presidency in hand by yesterday afternoon, and many issues still to be resolved, countries and groups came out swinging for their demands.
For the four Basic emerging economies – Brazil, South Africa, India and China – it's all about differentiating their responsibilities from those of rich countries, and firming up the latter's commitments to provide financial aid.
Commitments not fully met
"There's a bit of concern that financial commitments, as agreed to in Paris, have not yet fully been met," said South African tourism minister Tokozile Xasa.
"It's quite clear, the evidence shows, that not only do we need reliability in the available finance to support of the initiatives, but that the amount allocated is hopelessly inadequate."
On the question of how the rulebook applies to countries, the group stressed that the Paris Agreement gives developing countries more leniency as they build up abilities to, for instance, track and report emissions.
"There has to be some degree of flexible reassertion of the differentiated approach … and the allowance made for developing countries," Xasa said.
Is also another man's Paris Agreement. The Basic group argued that inserting "equal treatment" of developed and developing countries into the rulebook would amount to a "backslide" on the accord.
EU Climate Action Commissioner Miguel Arias Cañete countered that the Paris Agreement called for a more flexible differentiation than the developed/developing line of the 1990s.
"We fully respect what we agreed in Paris, but Paris also points out … that we have to have an enhanced transparency system with built-in flexibilities," he said.
Countries that need flexibility should get it, while their capabilities are built up, he added.
The Green Climate Fund has extended its search for a new executive director to 3 January. Climate Home News understands big hitters like Nigerian former finance minister Ngozi Okonjo-Iweala and UN desertification chief Monique Barbut have been encouraged to apply, but many potential candidates are deterred by the Songdo location.