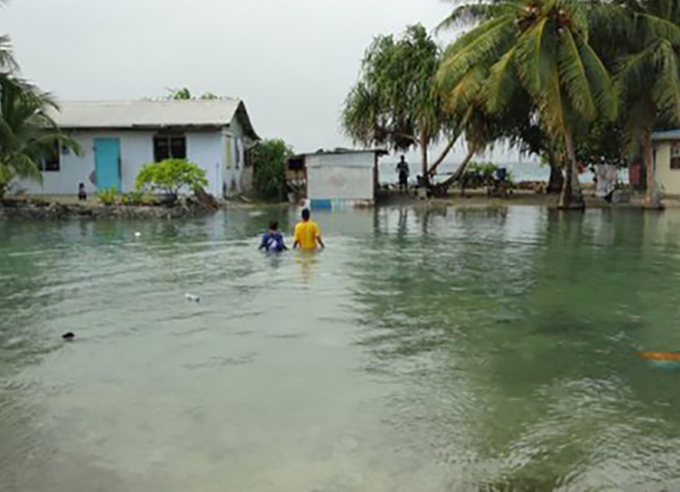 Policy makers, academics and NGO representatives discussed the urgent issue of climate change in the Pacific, where many communities have been forced to relocate. However, Michael Andrew of Asia Pacific Report, found that participants in last weekend's workshop believe the Pacific voices of those most affected must be heard if conflict is to be avoided.
The gap between policy and people was a key topic at the last week's Climate Change and Conflict in the Pacific workshop when experts from Western and Pacific countries gathered to share stories and studies.
The Auckland event – hosted by the Toda Peace Institute and the National Centre for Peace and Conflict Studies (NCPACS) at the University of Otago – sought to bridge the gap by connecting Western, scientific policies with the deeply spiritual customs and beliefs of Pacific life.
Workshop facilitator and Toda director Professor Kevin Clements, who is also founding director of NCPACS, says it is an opportunity to understand Pacific perspectives and respond creatively to an existential threat.
READ MORE: The climate change workshop and policy papers

"We in New Zealand and Australia have a deep responsibility to listen," he says.
"If we don't understand the Pacific way of thinking, we will begin to undermine relationships in unanticipated, unconscious ways."
Relationships were a major theme throughout the workshop, with many participants affirming the unique relationship Pacific people have with their land.
Vanua philosophy
Fijian teacher Rosiana Kushila Lagi says the traditional Fiji philosophy of Vanua reflects the absolute interconnectedness between people, land and sea.
Working in Tuvalu, Lagi is engaging communities to use the principals of Vanua to mitigate the destruction caused by climate change. The behaviour of animals, plants and the weather are all useful indicators of environmental change and can be used to prepare for extreme events.
However, she says many communities are losing this traditional knowledge when they are physically separated from the land, something that also contributes to a loss of identity.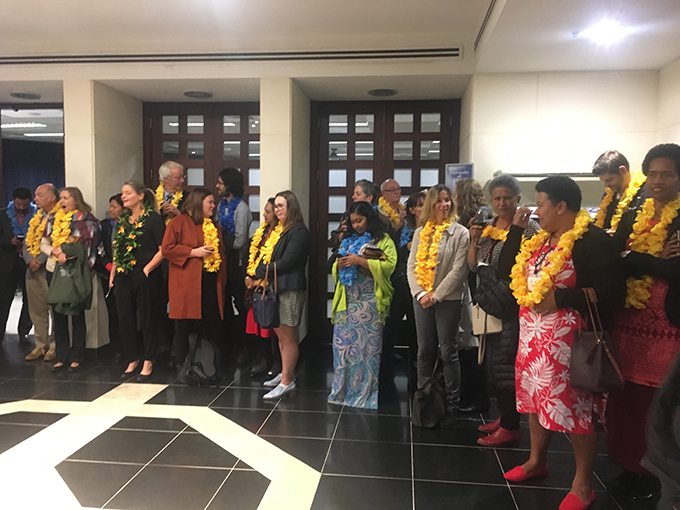 Tuvaluan minister Tafue Lusama shared a similar perspective, stressing the importance of traditional knowledge in the Tuvalu way of life.
"Indigenous knowledge is the way we focus our relationship to everything, to the land, to the sea, to each other and to all living things," he says.
"It is our way to communicate with the clouds, birds, plants, animals; this includes communicating with the spirits of our ancestors."
With an average height of 2m above sea level, Tuvalu is particularly vulnerable to the affects of climate change. Rising sea levels not only threaten property but also food and water sources.
Storm surges
Storm surges can sweep inland, flooding deep-rooted crops like taro and coconut and contaminating fresh water reservoirs.
Yet for many communities who have already relocated, the struggles of adjusting to a new home can be just as harsh.
Discussed at the workshop were the people from the diminishing Carteret Islands, who in recent years have been relocated to land donated by the Catholic Church on mainland Bougainville.
Managed by grassroots organisation Tulele Peisa, the initiative sees every family given a hectare of land on which they can live and grow crops for trade and sustenance.
While the relocation project has been considered successful, there are concerns for the Cataract Islanders living in a region recovering from a bloody civil war over the Panguna copper mine. Even today, violence is widespread.
According to Volker Boege, a peace and conflict academic who has worked extensively in the region, there have been reports of attacks on the Carteret Islanders and their property.
He says this has a lot to do with tribal competition over limited land, much of which is customary.
Establishing relationships
"Before the relocation, Tulele Peisa put in a lot of work establishing relationships with the Bougainville community and engaging in discussions with the chiefs. Nevertheless, land is scarce," Boege says.
"The policies don't take into account the complexities between the indigenous people and the fighting that can occur between tribes when relocated."
Despite predictions that the Carteret Islands will be completely underwater by 2040, he says some of the people are choosing to return home from Bougainville.
For these people giving up home, identity and starting a new life in a foreign land is simply too much to ask.
While other Pacific communities are on the list for relocation, there was a commitment among the workshop participants to factor in the values, customs and wishes of both the relocating and the receiving communities into any polices moving forward.
Future collaboration between the many organisations present would also allow an inclusive, dynamic approach where information could be easily shared from the top down and vice versa, connecting the grassroots to the researchers and policy makers.
Ideal outcome
For Paulo Baleinakorodawa, this was an ideal outcome of the workshop. As operations manager of Fiji-based NGO Transcend Oceania, he has worked extensively with relocated and relocating communities, resolving conflict and trying to make the process as peaceful as possible.
However, he says that plans for cross-organisation collaboration have stalled prior to the workshop.
"I was hoping that coming in here I would find an opportunity to actually push that into more actions," he says.
"It's been wonderful because there has been a lot of information, a lot of networking and commitment from people that are actually doing something about climate change."
"And so now Toda, Transcend Oceania, the Pacific Conference of Churches, and the Pacific Centre for Peace Building are going to be partnering together to continue that project."
While climate change and its affects will only continue to worsen, the workshop was an encouraging show of unity and compassion that will be needed if further suffering in Pacific is to be prevented.
Most importantly, it opened an essential conversation in which the many different voices could be heard.
"This is only the beginning of that conversation," says Baleinakorodawa.
Michael Andrew is a student journalist on the Postgraduate Diploma in Communication Studies (Journalism) reporting on the Asia-Pacific Journalism course at AUT University.