Southern Highlands community leaders talk about the post-election crisis in their province. Video: EMTV News
Pacific Media Centre Newsdesk
Community leaders from the troubled Southern Highlands province have welcomed the Papua New government's decision to declare a State of Emergency and plans to suspend the provincial government.
Speaking in Port Moresby, they urged political leaders to visit the province and talk to people, reports EMTV News.
They also apologised for the violence that has drawn concerns and criticisms by all levels of society.
In other developments yesterday: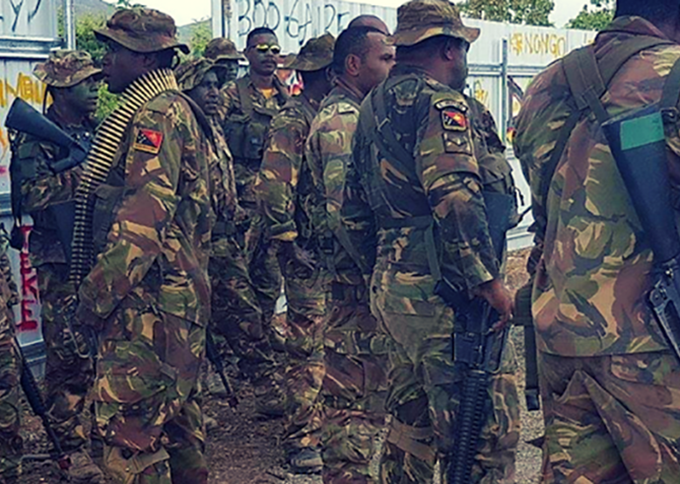 Angry march
Following reports of the suspension of the Southern Highlands government, angry supporters aggressively showed their disapproval by marching through Nipa with weapons and placards, demanding that the prime minister lift it, reports Loop PNG.
But it seems there has been a misunderstanding as Prime Minister O'Neill said the National Executive Committee (NEC) did not have that power.
He said newspaper reports were "pre-emptive", meaning they were anticipating the move to suspend the Southern Highlands provincial government.
Chief Superintendent Joseph Tondop said it was time to apologise to the country as leaders of the province joined hands with their people in remorse. This would also provide a venue for reconciliation, reports the PNG Post-Courier.
Tondop said the public apology was due for the burning of Air Niugini Dash 8 aircraft, the courthouse and the governor's residence last Thursday.
Meanwhile, security operations for the Southern Highlands State of Emergency started yesterday.
Soldiers and police personnel started patrols along road links into Mendi and the National Highway as well as providing security for government assets.
Mendi town quiet
Mendi town was unusually quiet as most shops and the Bank South Pacific remained closed.
Chief Supt Tondop visited the hospital and assured staff that they were safe, urging them to continue to provide services.
Acting Public Solicitor Lesley Mamu said: "It calls for us to sit together and gather our minds to start looking at improving the systems so that we find a way out this scenario and bring back rule of law to its position; currently rule of law is trampled upon and tarnished and it's a concern."
Mamu said the upcoming Law and Justice Summit in Lae, Morobe Province, next month would provide an opportune platform to address this concern, reports the PNG Post-Courier.
"It will bring together all the law offices and all the participants in the justice administration of this country to try to find a way forward in fighting crime and crime prevention," he said.
Rioting 'tainted PNG image'
The rule of law which was a concept embraced in "civilised and orderly societies" such as PNG also requires respecting agencies that were established by the laws of this country, Mamu said.
The rioting had tainted the nation's image, he added.
Opposition Leader Don Polye said the solution was to "analyse and dig out the root cause of such unprecedented insanity in Mendi".
"The need to root out the main cause of such a chaotic situation must be the National cry," he wrote in PNG Blogs.
"Applying the security forces against the civilians is not a panacea. Deploying security to appease volatility is good but only a temporary and band aid solution."