Oro Governor Gary Juffa speaks during the Opposition demand for Prime Minister Peter O'Neill's resignation. Video: EMTV News
Pacific Media Centre Newsdesk
Papua New Guinea's Opposition has demanded the resignation of Prime Minister Peter O'Neill over this week's rioting in the Southern Highlands capital of Mendi.
Opposition Leader Patrick Pruaitch, flanked by fellow members, made the call yesterday following the torching of an aircraft, and the burning of the Mendi courthouse and other buildings, reports EMTV News.
The Opposition claimed that what happened in the previous 24 hours in O'Neill's home province was a demonstration of lack of confidence in the government under Prime Minister O'Neill's leadership.
RNZ Pacific reports that frustration over alleged corruption sparked the unrest in Mendi with reporter Melvin Levongo saying police were outnumbered and unable to stop a mob armed with high-powered weapons destroying an Air Niugini Dash-8 aircraft at the provincial airport.
After this, the protesters burned down the governor's residence, the local courthouse and other buildings.
Police said Thursday's National Court ruling upholding Governor William Powi's 2017 election had sparked the rampage.
The election result had been challenged by losing candidates Joseph Kobol and Bernard Peter Kaku.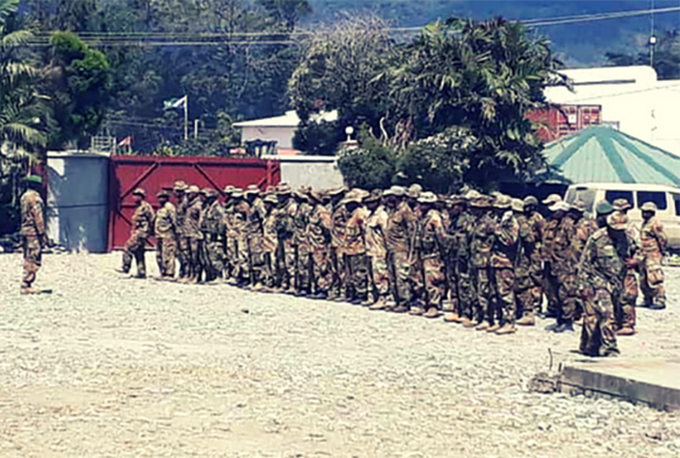 Loop PNG reports that security is being strengthened for doctors working in Mendi.
The president of the National Doctors Association, Dr James Naipao, said the doctors were near or in the Mendi hospital.
"If the civil unrest gets out of hand, they will be evacuated," he said.
Authorities said 200 PNG Defence Force troops would be deployed to Mendi.
The soldiers had already flown to Mount Hagen and were on their way to Mendi.
PNGDF chief-of-staff Philip Polewara said the situation was tense. Other reinforcements had been sent from Tari to guard the hospital, police station and state property.