USGS geologist Michelle Coombs giving a status update about Hawai'i's Kilauea volcano. Video: USGS
Pacific Media Centre Newsdesk
Scientists are predicting an eruption that shot ash nearly 9 kilometres into the sky could be the first of a series of powerful explosions to rock Hawai'i's Kilauea volcano, reports SBS News.
Hawai'i's Kilauea volcano has spewed ash nearly 9 kilometres into the air and scientists have warned this could be the first of a violent string of explosions in the crater.
"This has relieved pressure temporarily," USGS geologist Michelle Coombs told a news conference in Hilo.
"We may have additional larger, powerful events."
VIEW MORE: What the Mt Kilauea eruptions mean for climate change
Residents of the Big Island were warned to take shelter from the ash fallout as toxic gas levels spiked in a small southeast area where lava has burst from the ground since the eruption began two weeks ago, authorities said.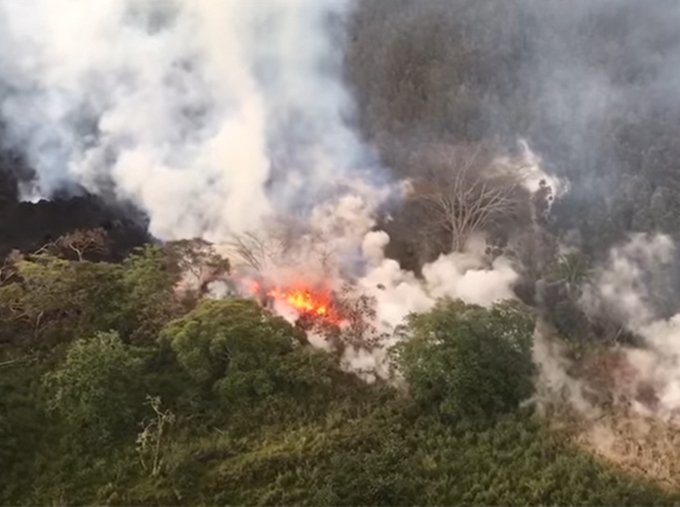 The wind could carry Kilauea's ash plume as far as Hilo, the Big Island's largest city and a major tourism centre, the County of Hawaii Civil Defense warned in an alert.
"Protect yourself from ash fallout," it said.
Kilauea is one of the most active volcanoes in the world and one of five on Hawai'i's Big Island.
It started erupting on May 3, prompting some 2000 people to flee from their mountainside homes.
Geologists said the 4:15am explosion was likely to be the first in a series of steam-driven explosions last seen in 1924, rather than "the big one" that nervous residents had been fearing.
A spike in toxic sulphur dioxide gas closed schools around the village of Pahoa, 40 km east of the volcano, where fissures have destroyed 37 homes and other structures and forced about 2000 residents to evacuate, health officials said.
National guard troops were forced to put on gas masks at a nearby road intersection, according to a Reuters reporter.
USGS geologists and staff were evacuated from the Kilauea summit shortly before the blast and a webcam showed a grey plume of ash and chunks of magma known as pyroclasts that showered the volcano's slopes.