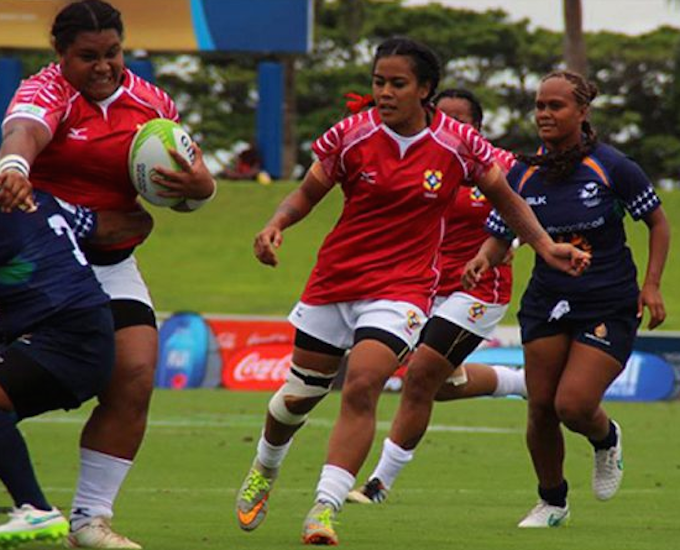 By Kalino Latu, editor of Kaniva News
Tonga's Prime Minister 'Akilisi Pohiva disagrees with a decision by his Minister of Education to ban girls from Tonga High School boxing or playing rugby.
He said the decision was not in line with his government's policy.
"It is the government's responsibility to provide opportunities for all the students to participate in all sports," the Prime Minister said.
"It is for the individual students and their parents to decide whether or not they should participate in a particular sport like rugby and boxing."
Education Minister Penisimani Fifita and his education authority had imposed the ban.
Meanwhile, a former Catholic principal said that if Catholic schools agreed with the Ministry's decision it would be "a disgrace" for the church.
Fr 'Aisake Vaisima, who was principal of 'Apifo'ou College before he left Tonga for Fiji for a new role in January, told Kaniva News the Catholic church's education authority had not banned its school girls from taking part in boxing and rugby.
The comments came after a controversial letter from the Ministry of Education and Training was leaked to news media, sparking an outrage that polarised international news as far away as New Zealand, Australia and the United Kingdom.
Majority not affected
It is understood the ban does not affect the majority of school girls in Tonga, especially at the church and private schools which are attended by 90 percent of all students in the kingdom.
In the letter, an education authority told the principal of Tonga High School, a government-sponsored institute, that a decision had been made by the Director of Education to ban its girls from participating in rugby and boxing.
The letter, which was written in Tongan, was dated March 15.
It Tongan it said:
"Ko hono 'uhinga he 'oku fepaki ia mo 'etau 'ulungaanga fakafonua ki hono tauhi ke molumalu 'a ha'a fafine, 'o taau mo e tala tukufakaholo na'e fatu'aki 'a e fakava'e na'e fakatoka talu pea mei ono'aho 'o kehe ai 'a Tonga pea mei ha toe fonua 'i he Pasifiki pea mo mamani."
This translates into English as: "The reason is because it is against our culture to keep women dignified so it still upholds the tradition of which its basis had been set out since the olden days making Tonga exceptional in the Pacific and the world."
Prime Minister Pohiva, said the letter from the Ministry of Education and Training to Tonga High School "purporting to ban girls from participating in rugby and boxing is not Tongan Government policy," his office said in a statement this afternoon.
"Sports is good for the health and the wellbeing of the people and this government, like previous governments, actively encourages the participation of every Tongan student in all sports without discrimination."
International reaction
New Zealand Prime Minister Jacinda Ardern has expressed her disapproval over the ban.
Ardern said New Zealand's aid support for sports in Tonga would not be threatened, but she disagreed with the directive.
"As a school student I played touch rugby and I would encourage all young women to engage in whatever sporting code they are interested in," Ardern said.
"We provide funding via MFAT to Tonga to encourage children's participation in sports. A young woman will still be able to do that through their villages, even if this dictate is made by these schools."
The New Zealand-funded Sports for Health Rugby Programme was launched at Kolomotu'a Community Rugby Field in February.
Known as Quick Rip, it was intended to focus on girls and boys aged 13 – 18 years of age.
New Zealand provided NZ$4 million to support efforts in four Pacific countries, including Tonga, to reduce the rate of non-communicable diseases in the Pacific.
Some people on Facebook supported the ministry's move and said rugby and boxing were sports for men only and Tongan girls should not take part in them.
Kaniva News has a sharing arrangement with Asia Pacific Report.