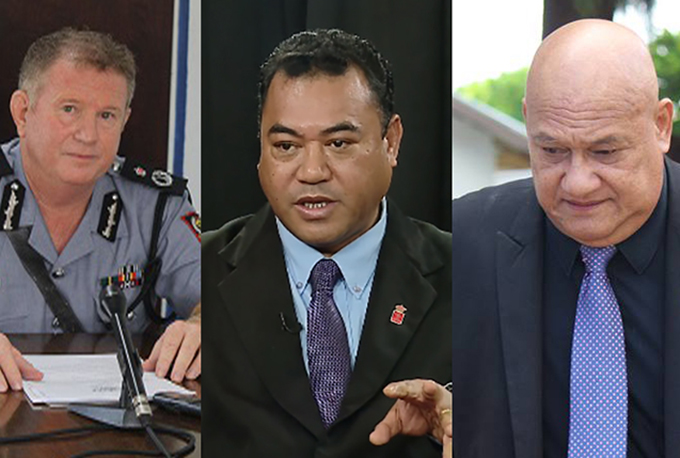 By Kalino Latu, editor of Kaniva News

A cabinet submission by the Police Minister to dismiss Police Commissioner Steve Caldwell has revealed concerns over an importation of prohibited weapons and large amounts of ammunition by Armed Forces and police after the King dissolved Parliament last year.
Two shipments of reloading machines, guns and ammunition – which arrived in Tonga before the November snap election – were seized by the Ministry of Customs and Police after an order by Police Minister Māteni Tapueluelu.
Tapueluelu said the reloading machines were prohibited in Tonga
These machines were made to assemble ammunition by re-using cases or shells that had previously been fired.
Only the Minister of Police had the power to authorise any importation of weapons to the country, he said.
Tapueluelu said he was concerned after he found out the request by the Armed Forces to allow them to import the firearms bypassed his office and was addressed to the Police Commissioner who, he said, had no power to approve it.
Tapueluelu said he was also concerned about the timing of the order of the weapons and the shipment's arrival in Tonga after Parliament was dissolved.
Weapons order 'too large'
He described the amount as "too large" compared to the population of Tonga and the Armed Forces.
He said he was worried that the police ordered ammunition while existing stocks met current requirements.
It is understood the claims byTapueluelu had concerned Prime Minister 'Akilisi Pōhiva while his government was in caretaker mode after the dissolution.
Lord Ma'afu was the Minister of His Majesty's Armed Forces at the time the weapons were ordered and the shipments arrived in Tonga.
It is also understood this was one of the reasons why Pōhiva planned to remove Lord Ma'afu from the portfolio after his party won last year's snap election.
But after a meeting with the King, Pōhiva re-appointed Lord Ma'afu as Minister of His Majesty's Armed Forces.
It was not clear whether the Prime Minister informed the King about the importation of the weapons.
Lord Ma'afu resigned last week after the Minister of Police submitted his proposal to the Cabinet. Pohiva accepted his resignation.
The reason for Lord Ma'afu stepping down has not been made public.
Lord Ma'afu could not be reached for comment.
Deputy Commissioner Fa'aoa left Tonga
Documents seen by Kaniva News appear to show that Deputy Commissioner of Police 'Unga Fa'aoa signed and approved a letter by Commander Sione Lino of His Majesty's Armed Forces on October 2, 2017.
The letter sought the Police Commissioner's approval to import firearms and ammunition including 100,000 rounds of 14085 ammunition, 300,000 rounds of 5.56 mm FIAI ball cartridges, 150,000 small pistol primers, three reloading machines and 38, 000 ADI 5.56.
Tapueluelu claimed Deputy Commissioner Fa'aoa had no power to approve the Armed Forces request.
The weapons were ordered from New Zealand from Ordnance Development Ltd, Castlecliff, Whanganui.
It is understood Fa'aoa left Tonga for the United States last year.
Move to dismiss Police Commissioner
The submission to dismiss Caldwell was submitted to cabinet on February 26, one day before Tapueluelu tendered his resignation, which Prime Minister 'Akilisi Pōhiva did not accept.
The Prime Minister said Tapueluelu wanted to resign because, he was frustrated and believed there was a lack of support for his submission from his cabinet colleagues.
Tapueluelu's submission read: "Honourable Members of Cabinet are invited to consider and approve the recommendation to the Judicial Appointments and Discipline Panel and to Privy Council the dismissal of Police Commissioner Stephen John Caldwell, under Section 13 (b) and (c), of the Tonga Police Act 2010."
It said the purpose of this submission was to seek approval of the cabinet ministers to recommend to the Judicial Appointments and Discipline Panel, to dismiss the Commissioner of Police.
Tapueluelu's submission claimed Commissioner Caldwell had said the signing by Fa'aoa was likely the result of "human error".
Tapueluelu said Fa'aoa was also a lawyer and he should have known better.
Tapueluelu said that on November 21, 2017, he advised Caldwell in writing of what he considered to be a serious breach of discipline by the Deputy Commissioner.
He said he told Caldwell Fa'aoa had approved the order without consulting or seeking the Minister's approval for the importation of ammunition and reloading machines on October 4, 2017.
"Deputy Fa'aoa's ignorance of the Laws of Tonga, is a serious breach of Discipline, as it is ruled that applications for importation of ammunitions, should and can only be approved by the Minister of Police…", the minister's submission to cabinet said..
Police order without permission
Tapueluelu said police also ordered ammunition from New Zealand around the same time without a permit.
"Usually I countersign orders from overseas, but not in this case," said Tapueluelu.
"It was during the Christmas season that the Deputy Commissioner of Police Ashley Fua asked that I approve the importation of ammunition worth of $20,000 already ordered and in the warehouse in New Zealand.
"I asked for the current stock of ammunition in Tonga and was informed there were 10,800 rounds of ammunition in stock. I sought advice from the Head Operation of Tactical Response Unit, Sikulu Fakateli and was informed that stock was enough.
"Consequently my office saw no need to approve this order. They ordered prior to asking for approval hoping they can force my office to an approval without proper consideration of the circumstances."
Tapueluelu alleged no disciplinary action had been taken against the Deputy Commissioner.
Asia Pacific Report has a republication arrangement with Kaniva News.