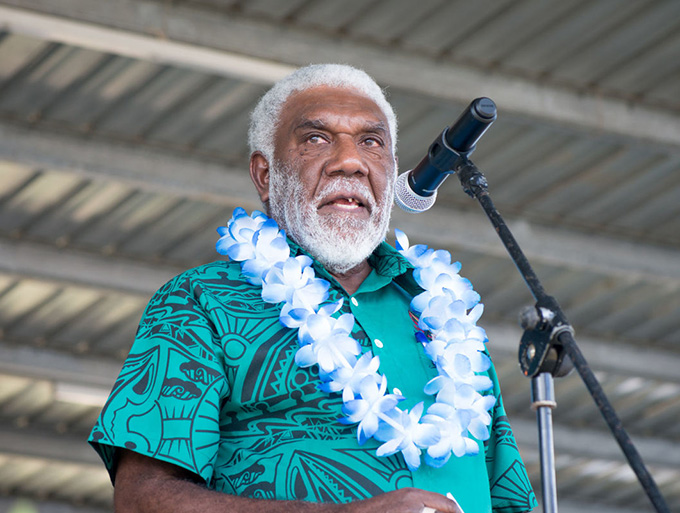 By Glenda Willie and Jonas Cullwick
Vanuatu's Deputy Prime Minister and Minister for Tourism, Trade, Commerce and Ni-Vanuatu Business Joe Natuman has pleaded guilty to two counts of obstructing or interfering with the execution of a criminal process, contrary to section 79 (c) of the Penal Code [CAP 135].
Natuman was joined by the other defendant in the Criminal Case 188 of 2016, former Acting Police Commissioner, Aru Maralau, who also pleaded guilty to one count of complicity to obstruct or interfere with the execution of a criminal process contrary to sections 30 and 79 (c) of the Penal Code.
Natuman and Maralau entered guilty pleas yesterday morning ahead of the initial trial date which was set for March 15-16. The sentencing is scheduled for March 16.
In 2016, their case was committed to the Supreme Court by the Chief Magistrate, Felix Stevens after a Preliminary Inquiry confirmed they have a case to answer.
The charges were brought against the Deputy Prime Minister in 2014 when he was Prime Minister.
On September 19, 2014, Natuman, in his capacity as the Prime Minister and the Minister responsible for Vanuatu Police Force instructed the then Acting Commissioner of Police, Maralau, to stop a police investigation team from carrying out an investigation into a mutiny case involving senior police officers.
Following the mutiny saga, Maralau assisted in suspending the investigations.
Moana Carcasses, who was Opposition Leader in Parliament at the time, filed a complaint against Natuman and Maralau.
'No case' submission
During a "no case" submission in relation to this criminal case last December, the court heard that the initial motive behind the then Prime Minister's actions and decision was made for the best interest of the Vanuatu Police Force, to unite the Force.
DPM Natuman is not the first Member of Parliament to plead guilty while occupying a ministerial portfolio. In 2015, then Finance Minister Willie Jimmy became the first Vanuatu MP since independence to plead guilty on two counts, one under the Leadership Code.
The Deputy Prime Minister will continue to hold the position of DPM and the portfolio of Tourism, Trade, Commerce and Ni-Vanuatu Business, following an agreement with the Prime Minister, Charlot Salwai, after he pleaded guilty to the charges in court yesterday morning.
Natuman told the Daily Post yesterday afternoon that he would hold the offices until his sentencing on March 16.
"Depending on how heavy or light the sentence will be, it will then be up to the Prime Minister or even myself," he said on his future.
The DPM added that he pleaded guilty in court on advice from his lawyers to a charge over an incident in which he acted in good faith, but did not realise it was against the law.
Section 3 (1) of the country's Members of Parliament (Vacation of Seats) Act, which can be viewed on the PacLII website states: "If a member of Parliament is convicted of an offence and is sentenced by a court to imprisonment for a term of not less than 2 years, he shall forthwith cease to perform his functions as a member of Parliament and his seat shall become vacant at the expiration of 30 days thereafter: Provided that the Speaker, or in his absence, the Deputy Speaker, may at the request of the member from time to time extend that period for further periods of 30 days to enable the member to pursue any appeal in respect of his conviction, or sentence, so however that extensions of time exceeding in the aggregate 150 days shall not be granted without the approval of Parliament signified by resolution".
Subsection (2) asserts: "If at any time before the member vacates his seat his conviction is set aside or a punishment other than imprisonment is substituted, his seat in Parliament shall not become vacant as provided by subsection (1), and he may again perform his functions as a member of Parliament", followed by (3): "For the purpose of subsection (1) no account shall be taken of a sentence of imprisonment imposed as an alternative to or in default of the payment of a fine".
Glenda Willie and Jonas Cullwick are journalists with the Vanuatu Daily Post.